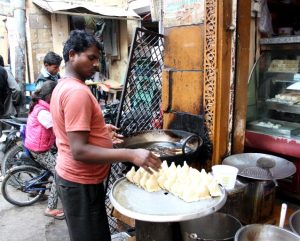 Recently, I set out to explore Jaisalmer in Rajasthan, and the experience was just how it's described in travel books and guides. The city looks a stunning gold with sandstone structures, the culture and heritage is rich and the food in Jaisalmer is mouth-watering delicious. I was accompanied by some hardcore foodies – needless to say, exploring local food in Jaisalmer was high on our list. And that we did!
Rajasthani food is typically spicy. Food in Jaisalmer is influenced by local ingredients at disposal, which means mostly vegetarian fare. But they are not far behind in churning out delectable Rajasthani non-vegetarian food. Since Jaisalmer is a tourist city, cuisines such as Bengali, Italian and Tibetan are widely available and popular.
Local food in Jaisalmer
Dal Bhati Choorma
Hard wheat-bread balls seasoned with salt are cooked in a tandoor or firewood, and sprinkled with clarified ghee. It is accompanied by a delicious Dal of soaked lentils. For sweet, Churma is a traditional dish made from a mixture of Wheat flour, Besan (Gram flour), Sooji, Sugar, Ghee and Mixed Nuts.
A must try if you're visiting Rajasthan and especially Jaisalmer.
Ker Sangri
A vegetable dish prepared from Ker and Sangari – desert beans and capers, locally found in the desert region of Jaisalmer. Ker is very sour and may need to be stored in salt water for 15 days to lose its sourness before consumption. Ker Sangri is slow cooked using locally available spices and chilly. It tastes great when combined with bajra roti.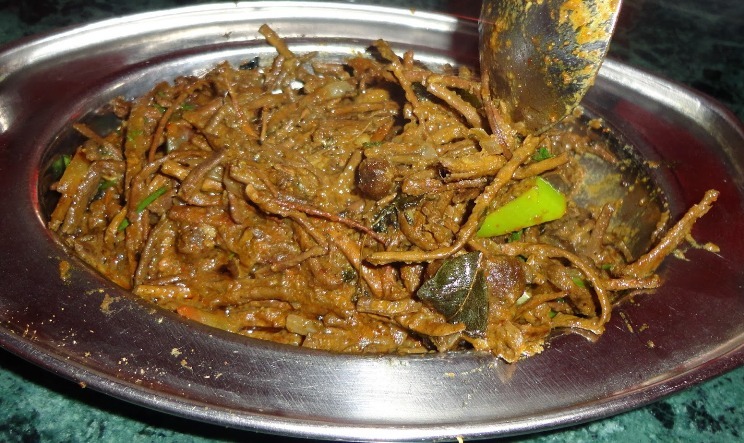 Source
Gatte ki Sabji
Besan or Gram flour sausage pieces are cooked in a yogurt based medium spicy gravy and served with rice or roti. It's rich in taste and rustic in flavour!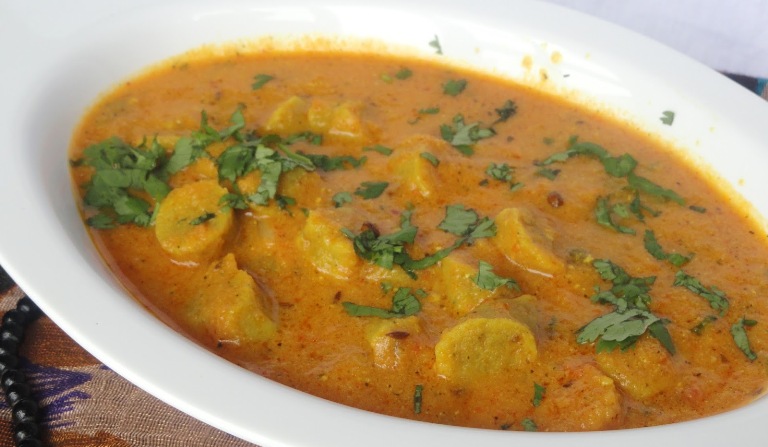 Source
Lal Maans and Safed Maans
Non-vegetarians skip the formality and order traditional Rajasthani Laal Maans and Safed Maans.
Laal Maans is a spicy mutton gravy, cooked in yogurt and (generously added) red chilly paste. Pair the fiery hot gravy with rice or roti.
Interestingly, When we ordered laal maans, the gentleman taking our order asked us if we would like it medium spicy. We told him to cook it the traditional way. To which he responded, y'all won't be able to eat it. We told him to bring it anyway.
Safed Maans is milder on the spice quotient. Succulent mutton pieces are cooked in a gravy of yogurt and almond and cashew paste and served with rice or roti. Let's just say, Safed Maans soothes your palate from consuming the fiery Laal Maans. Both dishes are an absolute must try!


Laal Maans and Safed Maans for lunch at Junction Palace Restaurant

Bengali Thali
You heard it right! Jaisalmer sees a lot of Bengali tourists. In fact, one of the highest numbers of tourist in Jaisalmer is Bengalis. A decent amount of ghetto-like Bengali restaurants and lodges have stemmed to cater to this huge tourist population. Expect to have some lip smacking Bengali food like Aloo Poshto and Sweet Tomato Chutney. The Thali is simple home-style food; but the taste is so good, you won't believe you're sitting in Jaisalmer and eating a Bengali thali.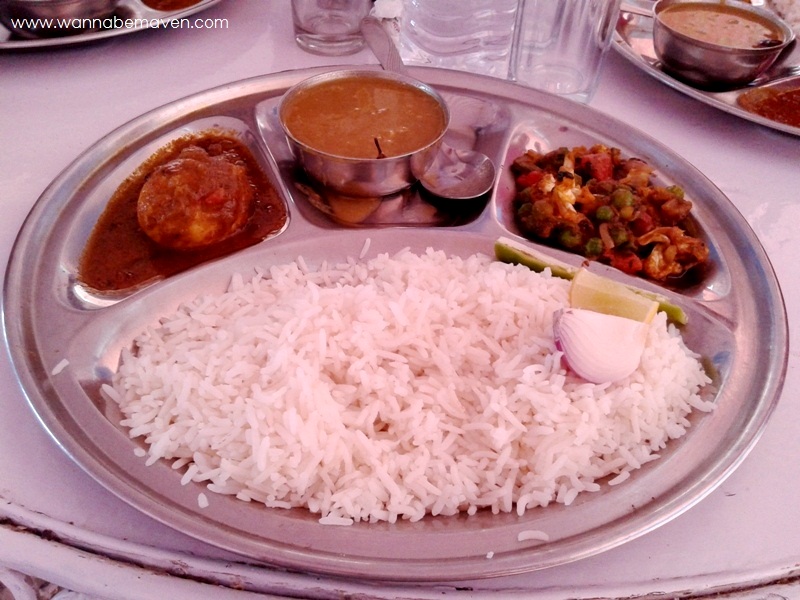 Bengali Thali at Hotel Akashdeep
Bhang (Cannabis drink)
There are a handful of Bhang shops in Jaisalmer authorized by the government. The owners proudly endorse their license to sell, so you will spot them with ease. Try their bhang lassi or bring home bhang cookies. There is a bhang shop near the east gate and west gate of Jaisalmer Fort. You definitely want to tick this off your list!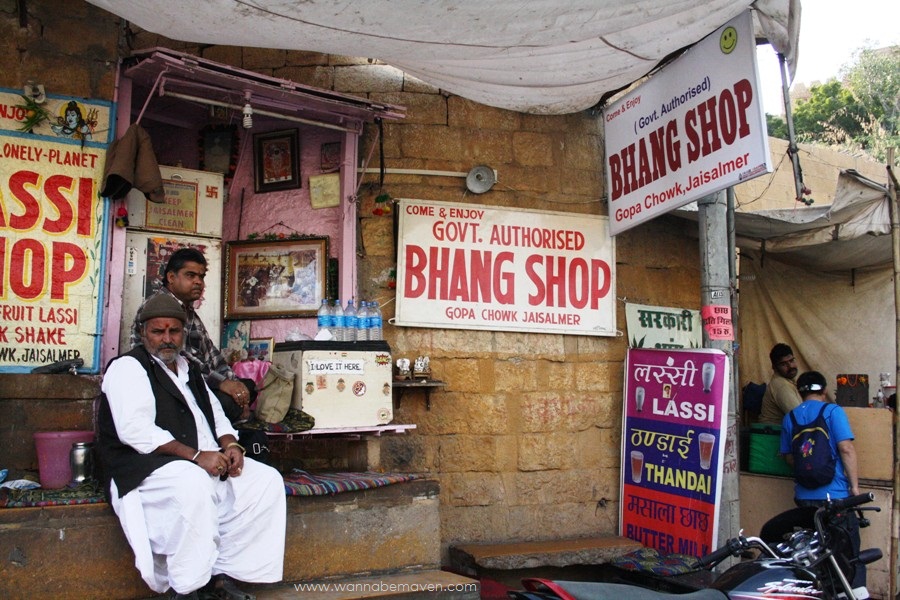 Makhania Lassi
Kanchan Shree Ice Cream, popular for their Makhania Lassi, has been recommended by Lonely Planet. Best eaten with a spoon, Makhania Lassi is rich and thick with a creamy texture. We tried it and found its taste similar to shrikhand. But we won't deny that the shop's popularity comes, more so, from its strategic location inside Jaisalmer Fort. The recommendation from Lonely Planet is a bonus.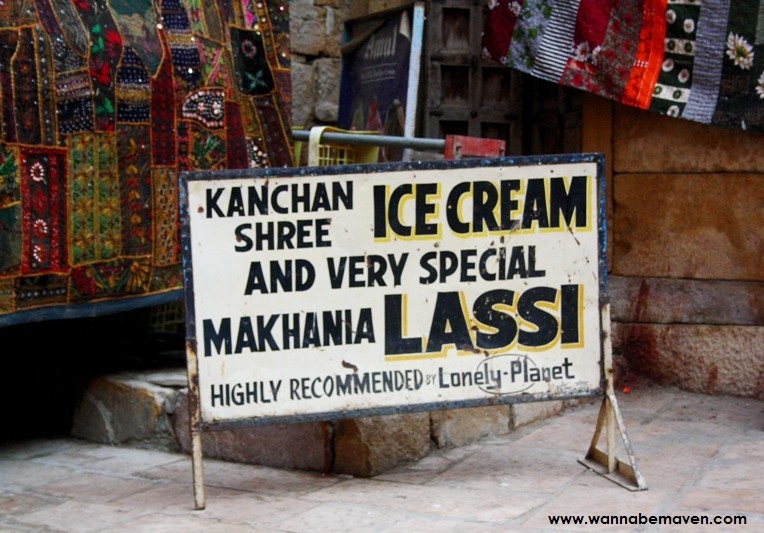 Pyaaz Kachori
A deep fried savory pastry stuffed with spicy onion filling, topped with some sev and accompanied by mint and tamarind chutney. Pyaaz Kachori is popular throughout Rajasthan, but a lot of tourists seem to enjoy this snack from the food carts in Jaisalmer.
Source
Dhanraj Ranmal Bhatia Sweets
Back at our desert camp, 40 km from Jaisalmer city, we asked the hotel reception to suggest a place to buy local sweets for  our folks back home, who recommended the Ghotua Ladoos from Dhanraj Bhatia Sweets. These guys have been around for more than ten generations. Located in the bylanes near Jaisalmer Fort, you'll have to maneuver your way skillfully tackling motorists to find this little gem. But it will all be worth the effort in the end.
Bring home their Ghotua Ladoos and Panchdhari Ladoos that are absolutely delicious. Made from desi ghee, the shop owner proudly suggests to avoid refrigeration of these sweets, as they can remain fresh under normal temperature for as long as one month. While at the shop, savour their Mirchi Bhajiya (Chilly Pakoras).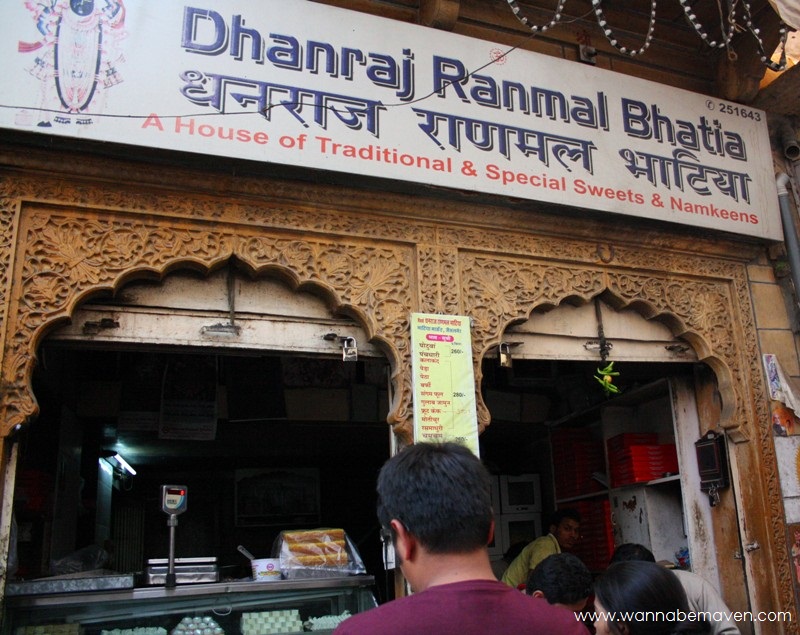 Alcohol to keep the spirits high
As a desert city, Jaisalmer faces extreme temperatures. Days are terribly hot and sunny and nights are rather cold. Make weather your excuse to head to the local beer and wine shops.
We noticed, more than two wine shops had spelled Chilled Beer as 'Child Beer'. And one shop spelled it as 'Chiled beer'. Checking out these local wine shops will definitely give you a chuckle with their unintentional humor (or intentional may be, you never know!)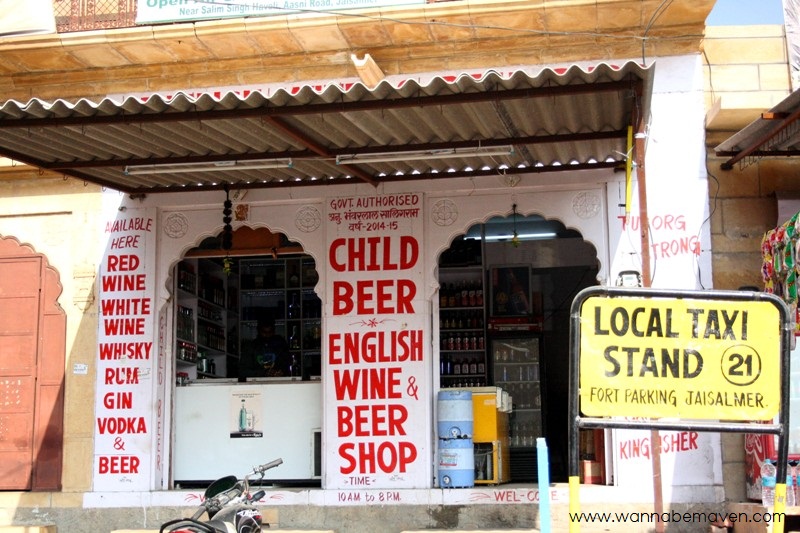 ---
Places to see in Jaisalmer
Jaisalmer Fort (Sonar Killa), obviously!
Gadisar Lake
Patwon ki Haveli
Sam Sand Dunes
Kuldhara Haunted Village
Nathmal ki Haveli
Jaisalmer Government Museum
---
Top Travel Tips for Jaisalmer
Give yourself at least four days in Jaisalmer to explore this desert city
Include a one night stay at a desert camp to complete your Jaisalmer experience
Take a pre-hired taxi for a day trip from Jaisalmer city to the sand dunes or vice versa. The fares will be upwards of 3k for a day but is still recommended.
---
How to reach Jaisalmer?
Jaisalmer has an operational airport. There are direct flights to Jaisalmer on Spicejet from metros like Mumbai, Delhi and Ahmedabad. Alternatively, you can fly to Jodhpur (280km) and take a pre-hired taxi to Jaisalmer – that way you'll cover another city. We flew down to Ahmadabad because we got a cheap ticket, and then took an overnight bus to Jaisalmer.
---
Where to stay in Jaisalmer?
We stayed at the Prince Desert Camp – read my review of Prince Desert Camp. Alternatively, Mystic Jaisalmer Hotel is a good bet if you want to stay in the old city.
Looking for hostels in Jaisalmer? Zostel Jaisalmer, Moustache Hostel Jaisalmer and Fort Side Hostel are quite popular here.
For latest accommodation prices in Jaisalmer on Booking.com or Agoda
Looking for travel gear, packing essentials and books to read on your trip, visit Amazon
Need guidance to plan your Jaisalmer trip? I'm here to help. Write to me 
---
Jaisalmer vlog
Watch this man's rendition of Padharo maro desh
Subscribe to my YouTube channel for more updates
---
Been to Jaisalmer? What's your favourite local food in Jaisalmer? Write in the comments…
---
You can also join me on Twitter, Facebook and Instagram to follow my journey as I bring you offbeat experiences from across India (and the world).
Subscribe to this blog to receive my quarterly newsletter with cool travel stories, updates and deals and discounts in your inbox.