The Ahmedabad landscape has changed over years with investor friendly policies and solid infrastructure development. Business travelers will, most definitely, find their way into Ahmedabad. But the city is also an excellent base for tourists. Anyone visiting Thol Bird Sanctuary, Nal Sarovar Sanctuary, Anand, Patan and even Bhuj can easily keep Ahmedabad as their base for stay or layover.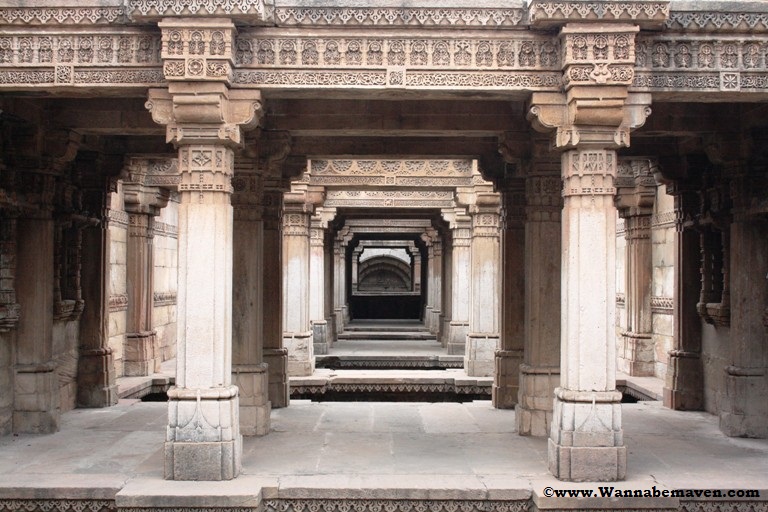 Adalaj Stepwell
An Overview
Recently, I took a stopover in Ahmedabad before leaving for Jaisalmer on the same night. I managed to cover a couple of interesting places from an offbeat museum to a 15th century stepwell and a colossal Hindu temple. I wish I had another day in Ahmedabad to explore. But I think that's how it is with travelers. They are a greedy bunch, never satisfied with the time they have in hand. Never mind!
I've noticed, any Indian city that isn't Mumbai, has an unhurried lifestyle. We arrived in Ahmedabad at 9am but commerce was yet to begin. January early morning chill was in the air. Shops had shutters and restaurants were only preparing to open, let alone serving hungry breakfast seekers like us. After scouting much, we stumbled upon a small eatery to grab Paratha and Chai. The less said about our breakfast that day, the better.
We interacted with a couple of Ahmedabad people and instantly sensed the pride they took while speaking of Narendra Modi and Ambani. Gujarati people are friendly overall and the hospitality is good.
Things to do in Ahmedabad in a few hours
Ahmedabad is divided into old and new city. Much of the Mughal architecture is in the old city. It was our intentional plan to skip Mughal architectural monuments for more offbeat sights in Ahmedabad.
Auto World Vintage Car Museum
Over 100 vintage cars from across the world are exhibited at Auto World Vintage Car Museum. These are a personal collection of businessman, automobile aficionado and Guinness record holder – Pranlal Bhogilal. He decided to make these rare vintage cars accessible to commoners as part of a unique museum experience. British, American and European make such as Rolls Royce, Daimler Chrysler, Cord and Cadillac are on display. You can even take a royal chauffeur driven ride in one of these vintage cars.
Entry: Rs. 50. Drive in a vintage car: Rs. 500. Check website.

Kankaria Lake
Manmade lake built by Sultan Qutbuddin in 1451 and used for bathing by the royalty. Kankaria Lake is popular with locals and tourists. An amusement park, water rides, food stalls and a beautiful garden in the center of the lake joint by a walkway make for a beautiful view. Unfortunately, the lake was closed for maintenance during our visit due to 'Kankaria Carnival' – annually organized at the end of December. We managed to catch a glimpse of the lake and were in awe of the sheer size of the 34 sided polygon lake. Visit Kankaria Lake in the evenings when it is colorfully lit up.

Adalaj Stepwell
Adalaj Stepwell is quite a popular attraction in Ahmedabad. Located in the village of Adalaj (that's how it gets its name), the stepwell was typically used as a resting place for pilgrims and travelers. Rani Rudabai built Adalaj stepwell in 1499. The Indo-Islamic style delicate carvings on window panes and pillars are among the highlights of your visit. Adalaj has a garden in its backyard which makes it popular with school kids for excursions. Get out that picnic mat and spend some relaxing time watching the sunset over Adalaj stepwell monument.
I wish Gujarat Tourism put up some information about the history of Adalaj stepwell in a comprehensible language like English or Hindi, and not just Gujarati.
Akshardham Temple
My irritation from having to leave behind my cell phone, camera, purse and other valuables, was gone the moment I saw this monumental structure. I realize Akshardham is taking its precautions against terror attacks, which it has been a victim of in the past. And I see justification for stringent security checks because the amount of people visiting Akshardham temple on a daily basis is manic.
Built as a dedication to Saint Swaminarayan, Akshardham temple complex has a museum cum exhibit center, souvenir shop, gallery, ice-cream parlors and (hold your breath!) a Water Amusement Park.
Not a very religious person, my interest lied in watching the musical fountain show at Akshardham that is organized every evening (except Mondays). They weaved a water show concept around Vedic philosophy and that had me look forward to it. I sat through the show and found the story below average. But, the water effects are excellent and overall experience – awe inspiring. I have seen the musical fountain show at Sentosa in Singapore and I will admit the standards are at par.
Club Adalaj Stepwell with Akshardham Temple since they fall along the same route towards Gandhinagar. You can visit Adalaj at around 3pm and head to Akshardham thereafter. Akshardham temple closes at 6pm. I strongly recommend watching the water show that starts at 7pm in Akshardham temple complex. Ensure you leave all your valuables in the car or back at the room. Else you will be forced to leave them in the locker at the entrance.
A Hearty Gujarati Meal

Don't even bother scouting for your non-vegetarian wishlist in Ahmedabad. Gujarat state is Pro vegetarian.
Ahmedabad offers the most tasty Gujarati Thali you will ever eat. The city is known for their traditional Gujarati Thalis where food just keeps pouring. Do not come back without trying their elaborate Gujarati Thali meals. That would be sacrilege!
Technically, this was my second trip. I previously visited Ahmedabad as a business traveler. So, I 'm including places below that I saw earlier in 2013 for a practical post with more to see.

Sabarmati Ashram
Mahatma Gandhi's residence and the most popular tourist attraction in Ahmedabad. Sabarmati Ashram has a museum, photo gallery, Gandhi's charkha and other of his valuables on display. The place has a certain calm, but it is a bit over hyped. There isn't much to offer to a visitor in terms of take home value. May be this is subjective!
Law Garden Night Market
Law Garden is your go-to place for street shopping. Handicrafts, colorful blouses and kurtas with elaborate work, mainly from artsy parts of Gujarat like Kutch, Surat and Saurashtra region can be found here. Hone your bargaining skills and you will end up with some great stuff to take back home.
What we missed but you should check out…..
Calico Museum of Textiles exhibits rare textiles of Mughal rulers and kings dating 15th to 19th century. An interesting theme museum.
Veechar Utensil Museum has a village-like set up where some rare vessels – traditional and non-traditional and interesting curios are on display. Museum is closed on Mondays, though.
New Lucky Restaurant for your cuppa and bun maska. You might ask, what's special about this place? Nothing really, except that you will be sitting and sipping your chai amidst graves of 16th century sufis.
Traveling in Ahmedabad
Rickshaw may/may not run on meter in Ahmedabad. Depends on how much of a tourist you look like. Be street smart!
You can hire a private vehicle for a day. A suitable choice if you are in a group or you have luggage to roam with and don't want to book a hotel room. We hired a private vehicle for Rs. 2100 for a day and had the expenses split. It worked for us since we had only about 10 hours in the city and wanted to utilize this time to the optimum.
***
Have you ever explored a city in just a few hours? Tell me in the comments…..
***
Liked this post? Also Check out……
Hampi-Hospet in a Jiffy – Visiting the UNESCO Ruins of Vijayanagara Empire
Can Matheran be covered in a day?
***
Join me on Twitter, Facebook and Instagram for more such travel stories and photographs. I also make cool status updates, just in case you like randomness!
Subscribe to this blog to receive instant notifications of my new posts in your inbox.