A lot of travel websites post pictures of the emerald green water at the Dawki River, aka Umngot River in Meghalaya. Waters so clear, you can see up to 50m deep. Not just that, the Dawki River is also popular because it's right on the India Bangladesh border. The internet has sold these USPs to many including myself. Imagine taking a boat ride in an emerald green river, at an international border. Memory of a lifetime!
But here's the thing. There is a best time to visit Dawki (and the worst time to be here), which nobody seems to be emphasizing on. I mean, I get that offbeat sells, but you got to set the expectations right!
70% of my friends and colleagues told me to visit the Dawki River when they learnt that I am going to Meghalaya. When finalizing the itinerary with my guide, I stressed for Dawki to be added. My guide told me, "You know it's not the best time to go there. You won't see any clear water". And I was like bummer! Flight tickets are booked. I can't change the location now.
I visited Meghalaya in May and I really had a great time. But the Dawki River wasn't why the trip was memorable. In fact, when I reached the Dawki River, I didn't even get off the car to stop and admire the place.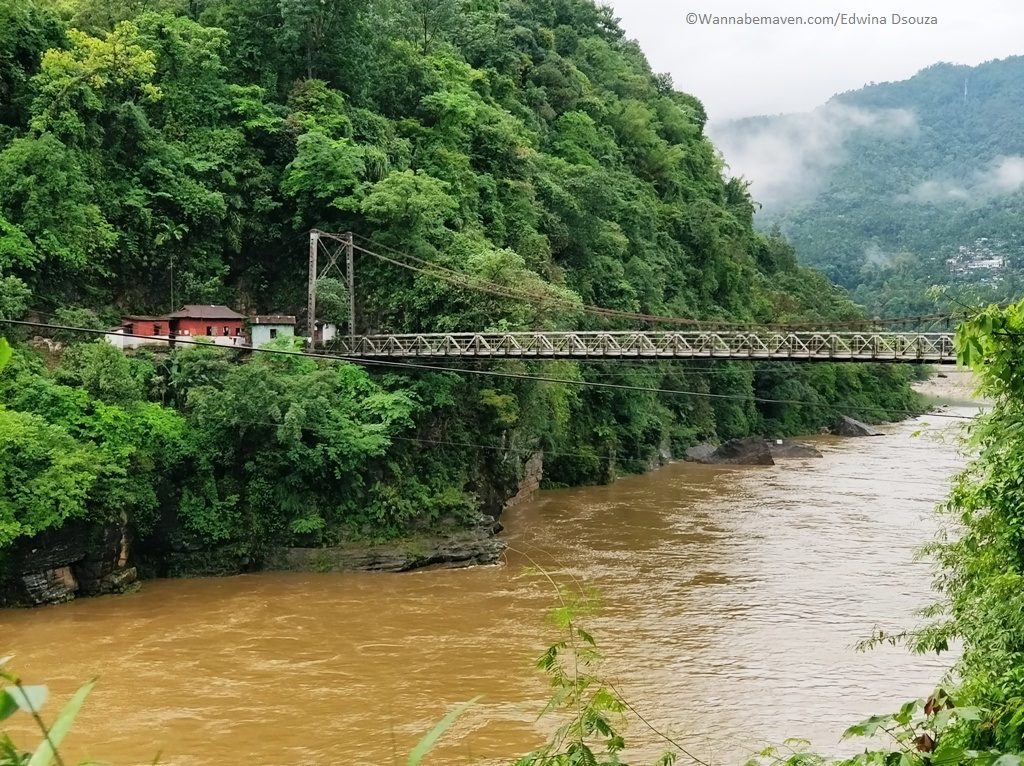 Yep, that's the Dawki River :/
So when's the best time to visit Dawki
The crystal clear waters which the internet promises are best seen when the river is still and calm. The best time for that is after the monsoons. I'd say October to April. If you visit anytime other than that, the water is not clear. The rains have set in, and the silt is moving and turning the water muddy. So you don't see a clear river but a brown river and it's nothing special. Also because of the on and off rains, there's no boating. So your dream to take a boat ride on a river on the India Bangladesh border pretty much comes crashing down due to bad timing.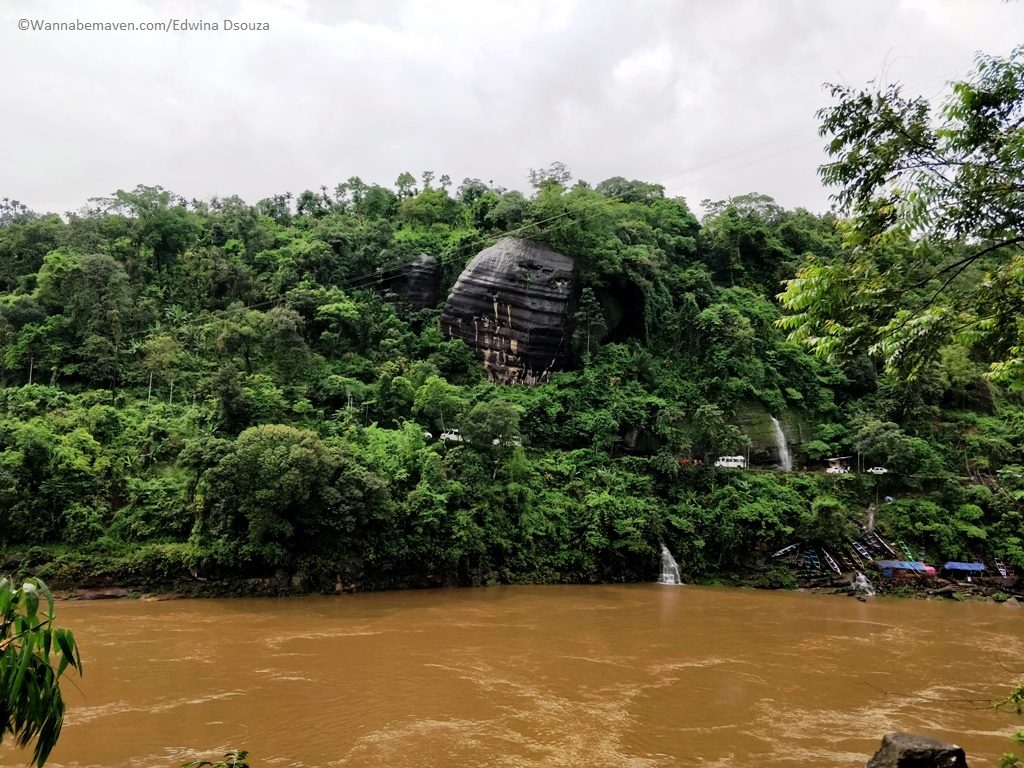 Boating is mostly shut at the Dawki River during monsoons
Dawki-Tamabil Friendship Gate
Meghalaya shares a 442 km border with Bangladesh, and Dawki is the last Meghalayan village before the Bangladesh territory begins. A 15 minute drive, further down Dawki River will reach you to the Dawki-Tamabil border. The route connects Guwahati-Shillong-Dawki-Tamabil-Sylhet-Dhaka. It is one of the few soft borders in India connected by road for commerce, mainly coal transportation between both the countries.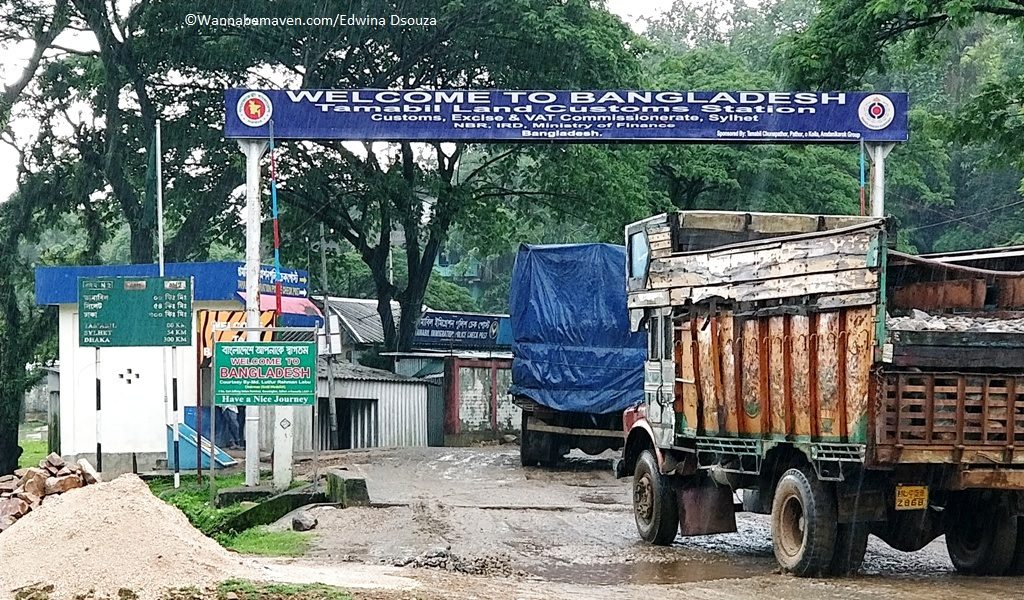 Coal trucks entering Bangladesh territory
I was really excited to visit the Dawki-Tamabil border. This was going to be my second border visit after Wagah, in a span of four months. There is a vast difference between both the borders. While Amritsar's Wagah border was pretty much like a patriotic rave party with citizens from India and Pakistan screaming their lungs out; the Dawki Tamabil border was plain simple and quiet, with a few friendly cops and a line up of trucks waiting to clear permits to get on the other side. It was a rainy day, so we hardly saw any people or hawkers on both sides of the border. I enjoyed posing for pictures here, especially on a patch which was no man's land. The visit has certainly intrigued me to now check out other borders India shares with its neighbours.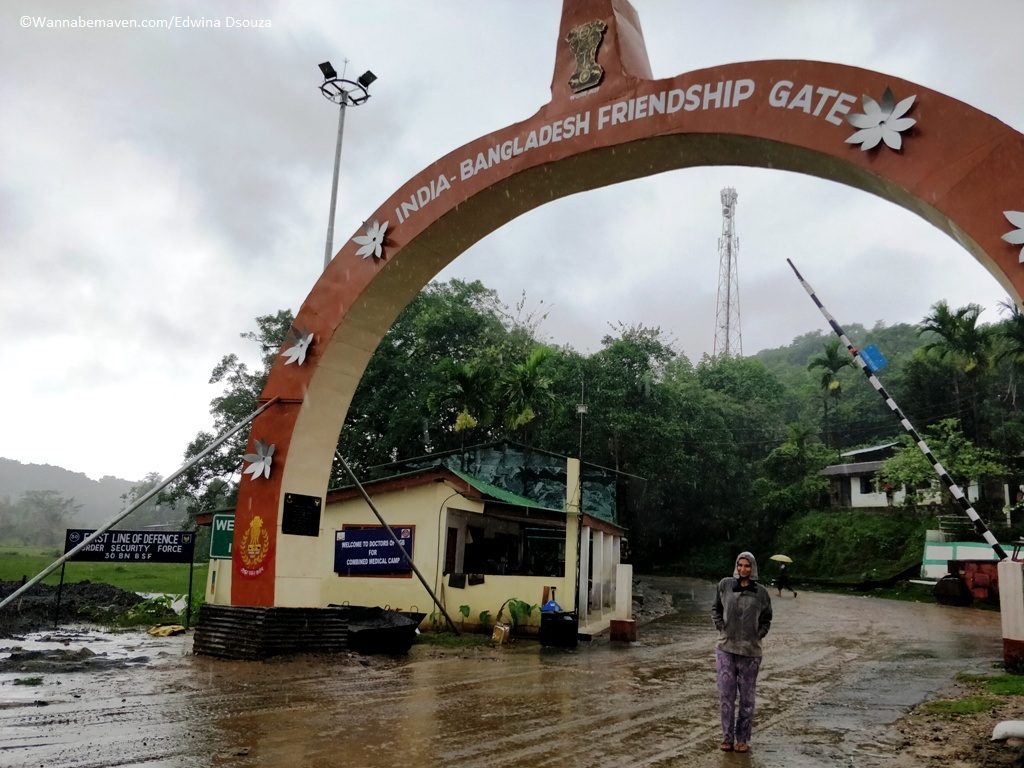 Good to know
Cabs are easily available for Dawki from Shillong. My advice would be to

hire a cab for a day trip and cover Maawlynnong (Asia's cleanest village), Riwai living root bridge and Dawki

as its all on the same route
Camping is also possible at Shnongpden near the Dawki River, during the right season, which is anytime apart from monsoons.
Where to stay
We stayed one night at the Sha Ri Loum homestay in Shillong – a lovely bungalow property with spacious rooms and a resident cook. Another night, we stayed at Saw Aiom. Very peaceful location near a stadium which kinda makes the weather a bit chilly
==
Other posts from the Meghalaya series:
First impressions of Meghalaya
What's my take on Meghalaya's Khasi cuisine
==
Join me on Twitter, Facebook and Instagram for more such travel stories and photographs. I also make cool status updates, just in case you like randomness.
Subscribe to this blog to receive my monthly newsletter with cool travel stories, updates and deals and discounts in your inbox