I reach home, drop my backpack, look into the fridge. Mom's made sorpotel and I don't feel like eating.
It's a very turn off feeling after seeing chunks of pork, literally every part of the pig, hang by hooks in shops in the Khasi region of Meghalaya. They eat pork like nobody's business. After a point, the sight is uncomfortable.
Pork is to Meghalaya what vada pav is to Mumbai and dhokla to Gujarat. Another important ingredient in Meghalaya's cuisine is rice, not just in their food but in the wine and beer too.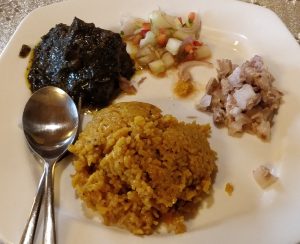 A vegetarian is going to feel out of place here but it's not like he won't be able survive. Dal is an important protein for them, although their dals are a little watery. Their tomato chutney is truly local. I even tried some stir fried vegetables at my guest house in Nongriat (although, I'll admit it tasted like cured meat).
Khasi cuisine is very minimalistic. They barely use any spices except onions, ginger, sesame seeds paste, turmeric, some mustard oil, may be. The two main cooking styles are smoking and fermenting. They smoke the meat and ferment the fish, rice, liquor and literally everything else!
It's good to know that Meghalaya is divided into three tribal belts – Garo, Jaintia and Khasi region. With a little exception here and there, pork and rice is important to all the three regions. I was in the Khasi belt, which is the popular tourist area of the three. In this post, I'm going to take you on a quick tour of Khasi cuisine and what you need to try on your next Meghalayan adventure.
Lal cha
The literal translation is red tea; it basically is a lighter version of black tea. The red colour comes from lightly boiling the tea, almost as if under boiling it. It's a very fine line and easy to not get it right, which is what happened when we tried Lal Cha for the first time at a tourist point on the way to Dawki. But the subsequent times we had Lal Cha in Nongriat, Cherrapunji and Mawphanlur – top class!
Cuppa 🙂
Jadoh
Jadoh is the star dish of Khasi cuisine. You can get yourself a bowl of Jadoh anywhere across streets and homes in Meghalaya. But what really is Jadoh? It means Ja-rice and doh-meat. Think of it as a khichdi with meat, either pork or chicken, although traditional Jadoh is prepared with pork. In fact, in old-school Jadoh the rice is cooked with pork blood. Of late, people also use pork fat as the stock to cook the rice.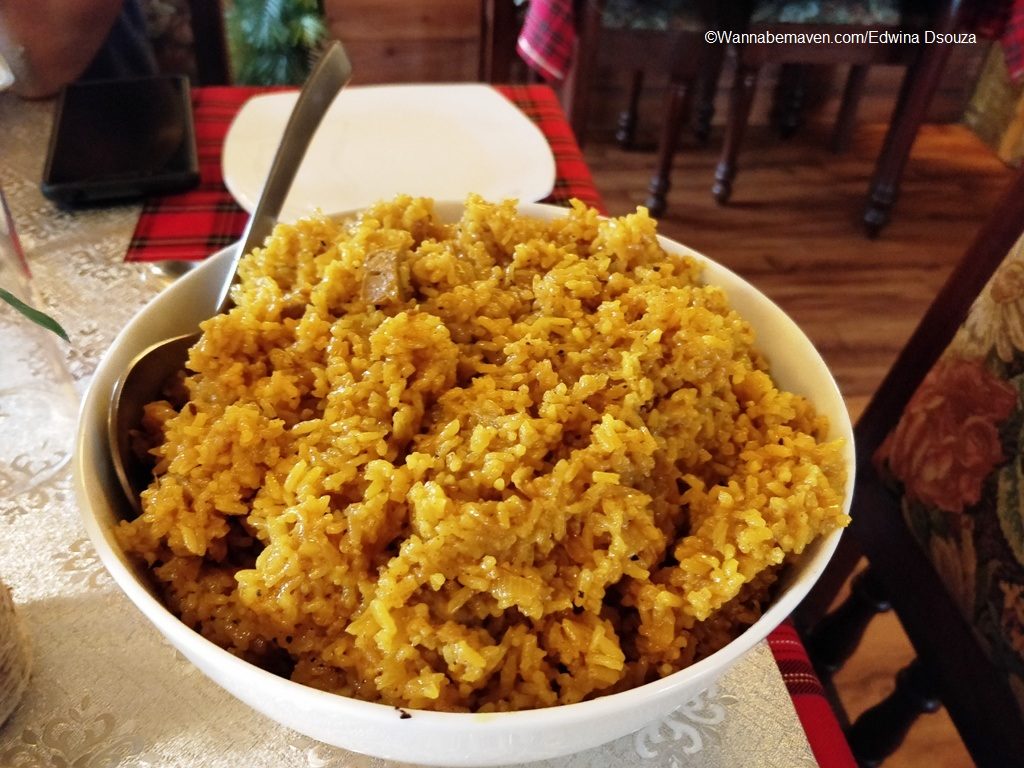 Pork Jadoh
Doh-Khlieh
Where in India would you eat pork in a salad form. Meghalaya, where else? In Doh-Khileh, the meat is smoked and lightly stir fried with onions and ginger. It's very minimalistic and none of the ingredients over power the other. Again, traditional doh-khilieh is cooked with finely chopped pork head pieces. But now, locals prepare it with pork belly and shoulder cuts too.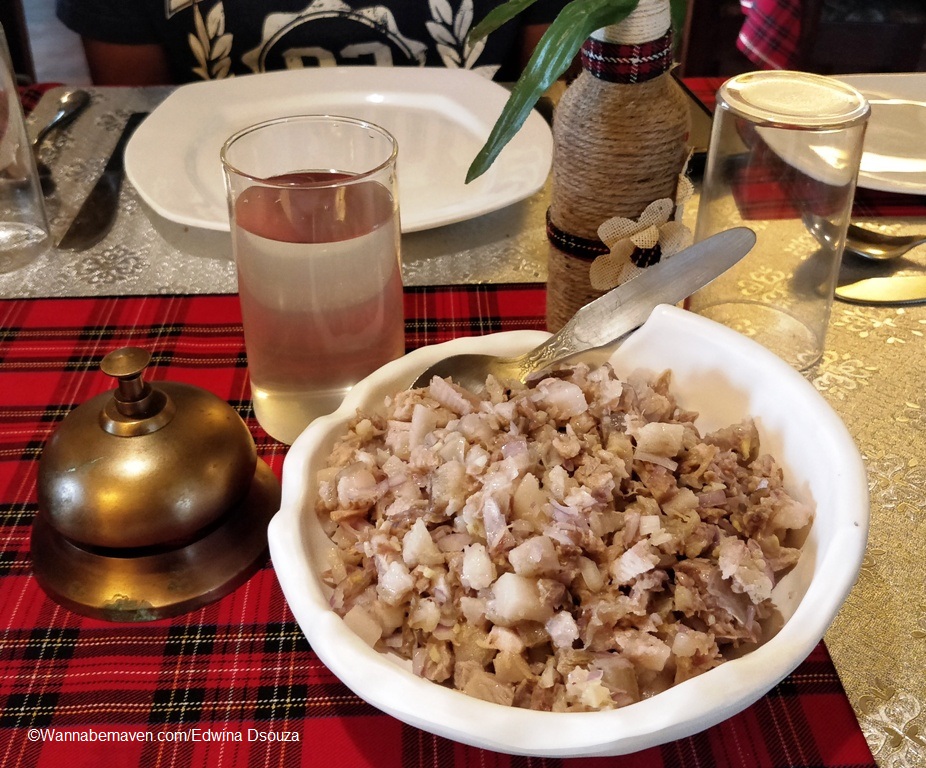 Doh-khlieh – sort of a pork salad
Dohneiiong
This tongue twister of a name is pork cooked in black sesame paste. It almost looks like a palak paneer sans the palak and the panner. Chunks of pork pieces, mostly belly cut, are cooked in thick dark greenish gravy. As a curry, Dohneiiong goes well with Jadoh or plain white rice.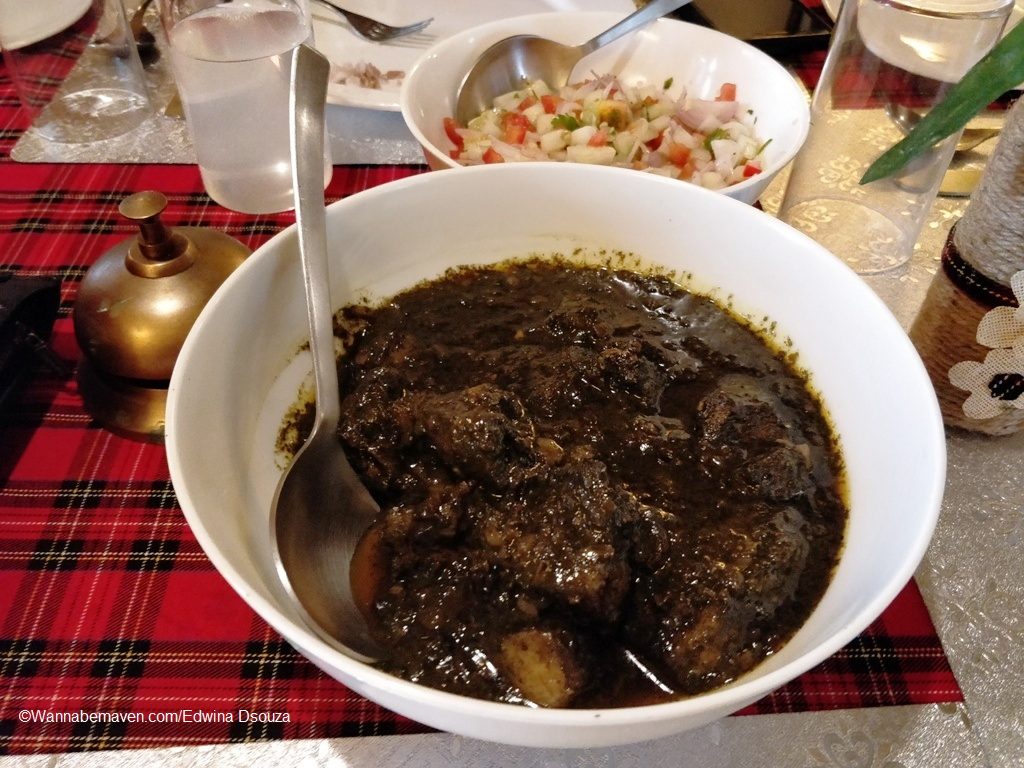 Pork in black sesame paste
Kwai
99% of the population in Meghalaya (both male and female) are always chewing Kwai. It's a local paan comprising of areca nut, betel leaf and lime paste. The magic ingredient is the size of the areca nut, good enough to give you a high. I tried Kwai in this tiny village, Mawphanlur about 80 kms from Shillong. The stuff gave me a two min buzz until I spat it out.  Not for me, thank you!
Local paan
Duma
This is your local beedi…very popular and organic. The packet comes with a ball of tobacco, paper rolls and a match box. You gotta make your own shiz and smoke. Again, I tried a couple of puffs and gave up. Never enjoyed smoking! But it's 100% legal and I even bought five packets home to gift people.
(L) Duma -Beedi; (R) Our driver rolling a Duma for us
Rice wine

We managed to convince our restaurant staff in Cherrapunji to guide us to a shop where we could buy some homegrown stuff. Apparently, rice wine isn't allowed to be sold during the day in rural Meghalaya and so our shopkeeper packed it in plastic bags and we hid it under our t-shirts and took it back to the restaurant, where we pretended to drink it as lime juice along with Jadoh and Doh-khlieh.
Other items to sample while in Meghalaya – Mylliem chicken (garlic based chicken gravy), Kyat (rice beer), Pumaloi (sort of a rice cake for breakfast) and Tungtap (fermented fish chutney).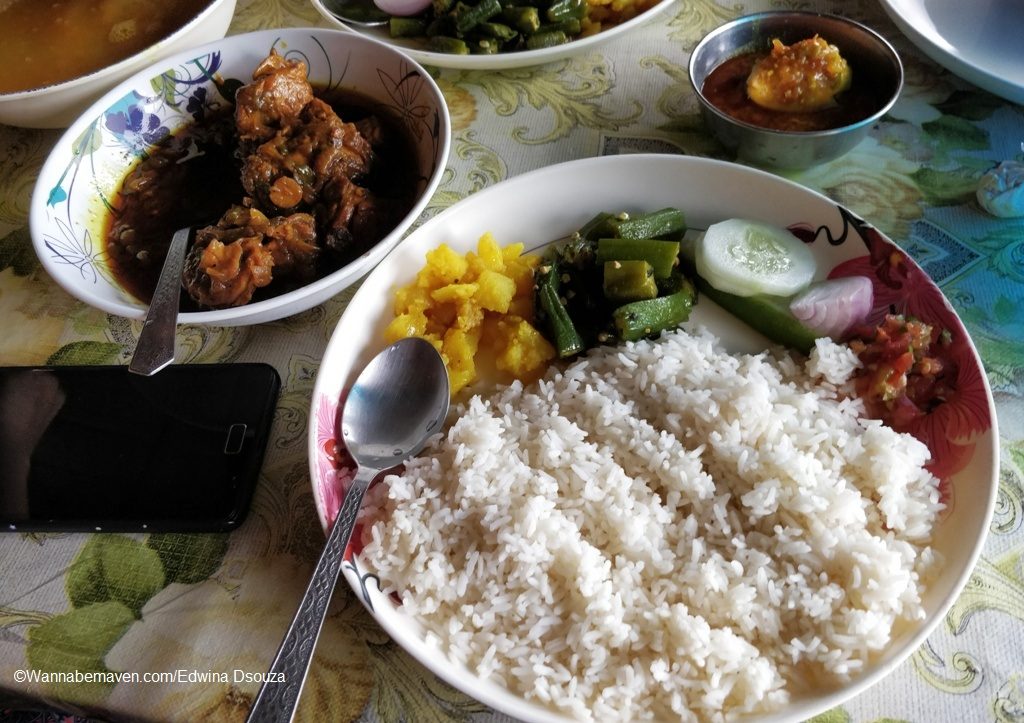 Mylliem chicken rice plate
Good to know
Outside Shillong, shops and restaurants shut by 7.30pm. To be safe, book a hotel with an in-house restaurant or intimate your guest house to cook a meal for you ahead of time
The restaurant scene in Shillong is better than anywhere else in the state. You'll get your momos, Tibetan and Chindian fusion food. Step out of Shillong and the restaurants make way for tiny wooden shops selling cha (tea) and jingbam (snacks).
Don't be fussy about eating at small run down shops here. That's the fun part. Be assured the food is the real deal and hygienic too. Meghalaya was one of the cleanest states I travelled to.
Bookmark

Cafe Cherrapunji

for a Khasi platter. That's where we tried majority of the Khasi dishes.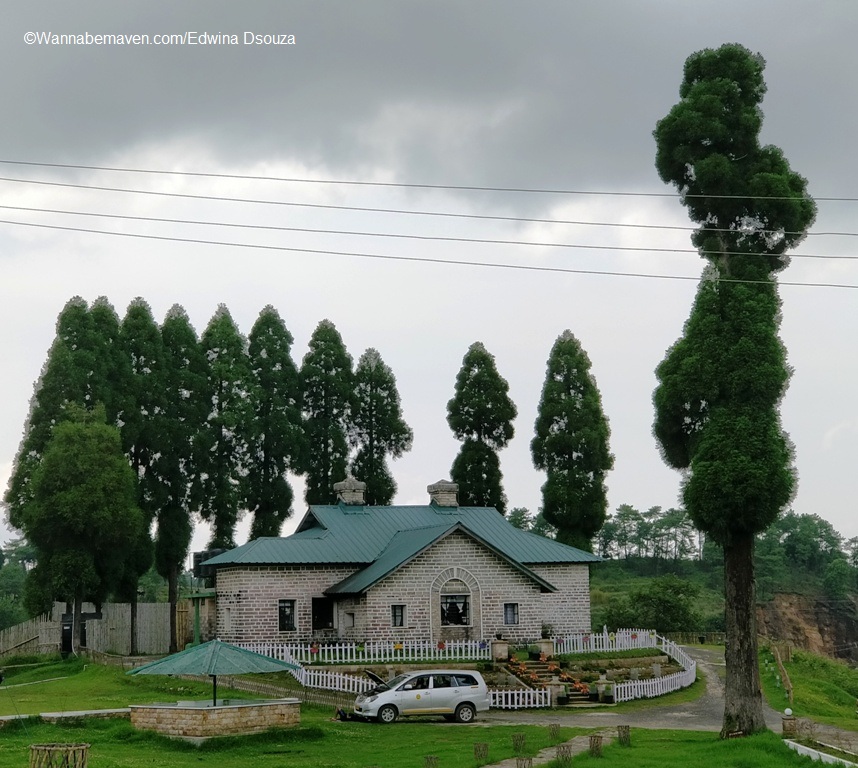 The very cute Cafe Cherrapunji
In a nutshell
If I have to summarise Khasi cuisine, it's an acquired taste. Not really everyone's cup of tea. If I ever return to Meghalaya, which I definitely will, I ain't returning for the food. But that's just my view. Go give the cuisine a shot. Come back and tell what did you think 🙂
==
Also read
What they don't tell you about Dawki
==
Join me on Twitter, Facebook and Instagram for more such travel stories and photographs. I also make cool status updates, just in case you like randomness.
Subscribe to this blog to receive my monthly newsletter with cool travel stories, updates and deals and discounts in your inbox