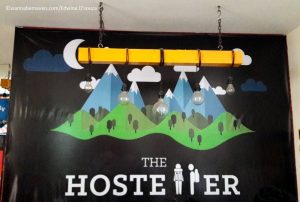 Three years into travel blogger, one would have expected me to stay at a travel hostel already. But it didn't happen until June 2016 while backpacking in the Himachal. Our flight back to Mumbai was from Delhi and we needed a place to crash for a night. We had been on the road for 18 hours travelling from Kasol in Himachal Pradesh to Chandigarh in Punjab to New Delhi. Our sore bodies were looking forward to a bed for some much needed rest.
I am going to be honest – the Himachal trip was not planned by me. A friend and fellow traveler had taken responsibility of planning this trip from start to finish. The only instruction I received was to show up. For the last day on this trip, we were booked at The Hosteller in Saket – A very popular and well connected residential area in South Delhi. Although the convenient location was of no use to us as we reached late into the night and were flying out the next day. But I'd like to talk about whatever little time I spent at the hostel, more so because this was my first travel hostel experience.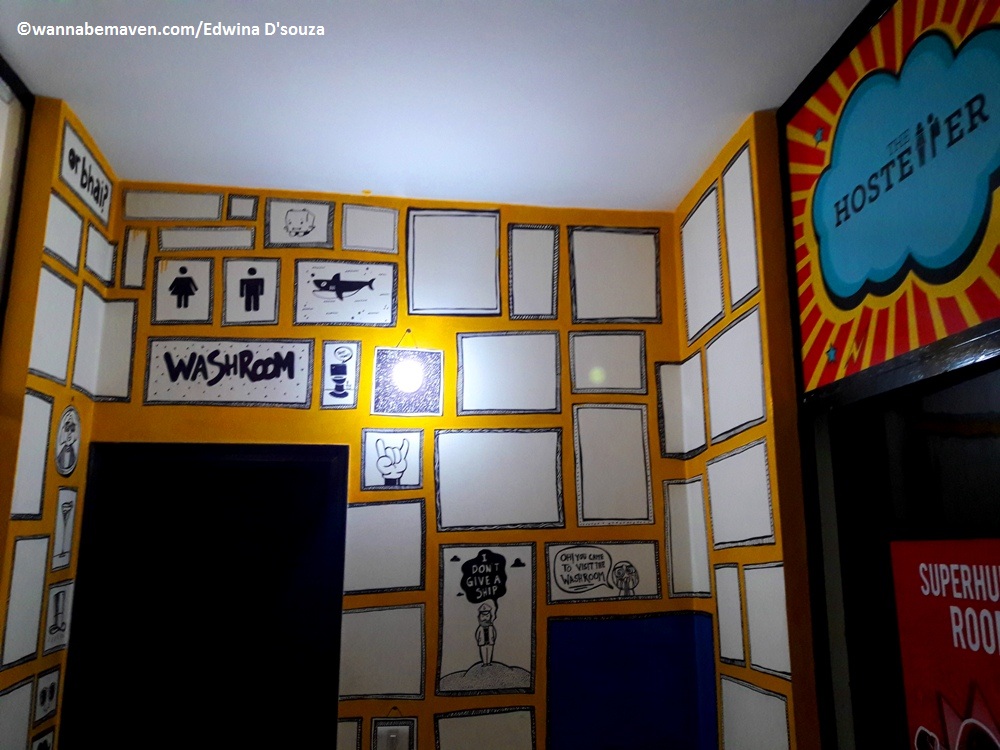 I've seen a couple of travel films in different languages and from different countries. Most of them at one point in time feature a travel hostel. I for one remember very vividly the travel hostel scenes from the Hindi film Queen, one of my favourite films.
I believe there are two reasons people opt for travel hostels – cheap accommodation and meeting interesting fellow travelers. Our choice of stay on this trip was purely influenced by the former. The Hosteller had ticked all our check boxes – good reviews on TripAdvisor, cheap stay, AC dorm and decent bed and bath. The icing on the cake was the cozy common room with a nice wooden jhula (swing), a large projector screen and a couple of cushions thrown in. The pop art-ish murals on one side of the wall stood out too!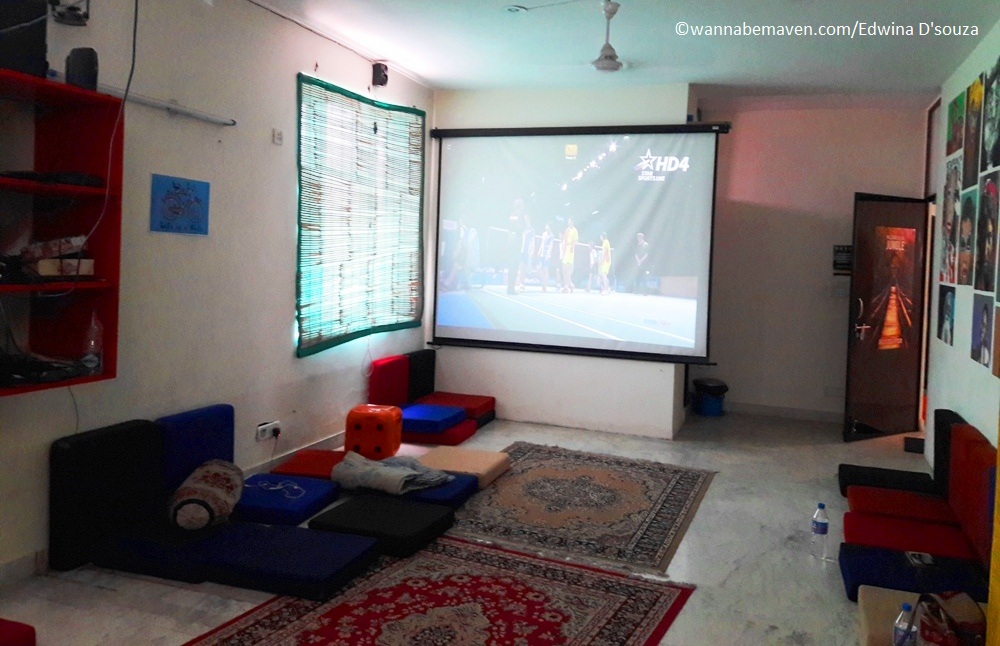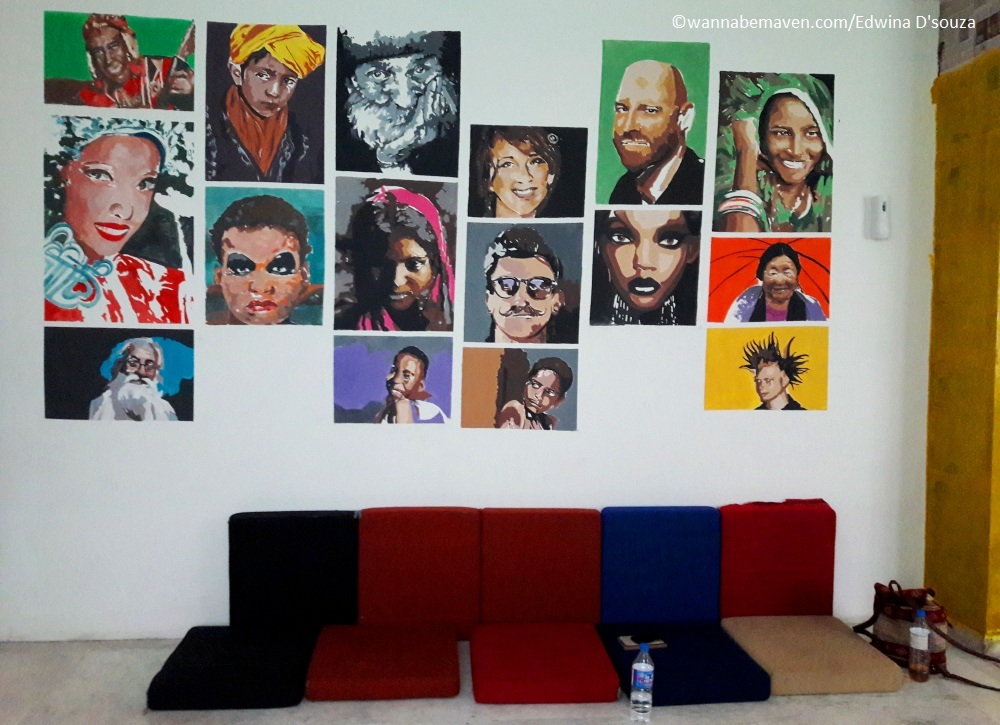 Our four storey hostel was not directly visible from the main road but a two minute walk. At the entrance, we found two laidback looking guards. Without their on-duty uniform, a polite question like where are you coming from also creeped me out. We quickly made an entry in the register and marched towards the reception, which was on the third floor – they don't have a lift so that's a bummer!
Aatm Bodh, a 20 something short guy with a husky voice, was the man in charge at the reception. He asked us to complete a couple of online forms before we could finally catch a glimpse of our room. The boys had gone their separate way, while we headed to our 8 bed AC dorm for women. Three of us quickly did a dips on who sleeps where. There was another foreigner in the room who was sleeping half naked (culture shock, there!). But I don't blame her – it was hot and the AC cooling was inadequate. Dirty laundry lay at one end below my bed of a guest who I think didn't return that night.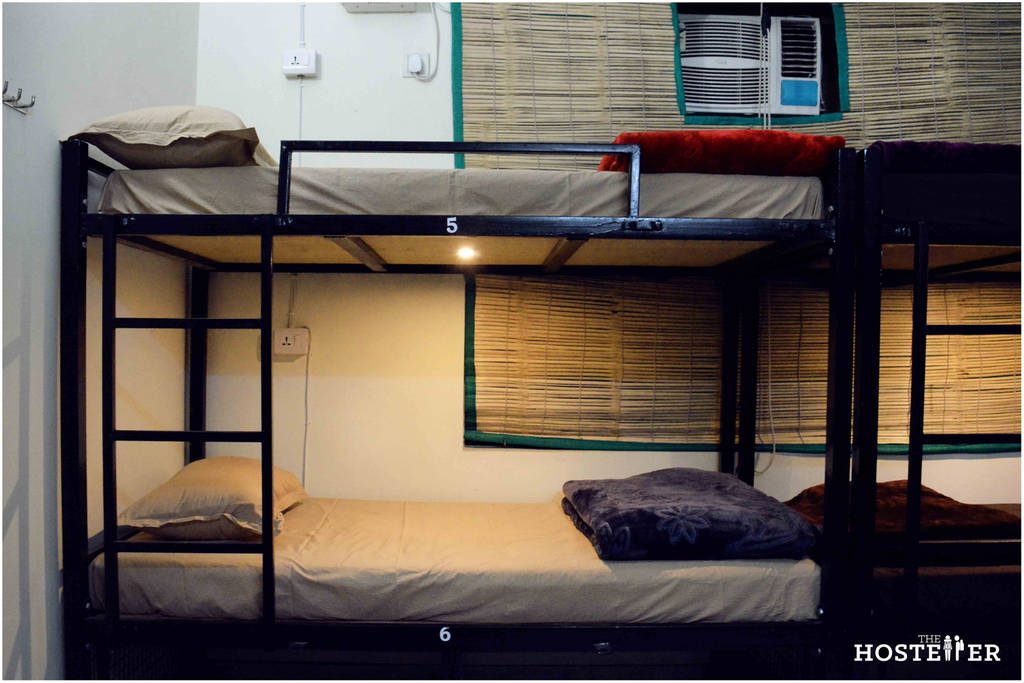 Aatm had managed to prepare us some chicken salami sandwiches with french fries after we had called in earlier, asking if there would be anything to eat on our arrival. We gobbled the sandwiches while lounging on the open terrace at midnight. For company were a couple of Indian guys jamming with their guitar. I'm guessing the terrace is host to a lot of fun and cultural activities organized by the hostel.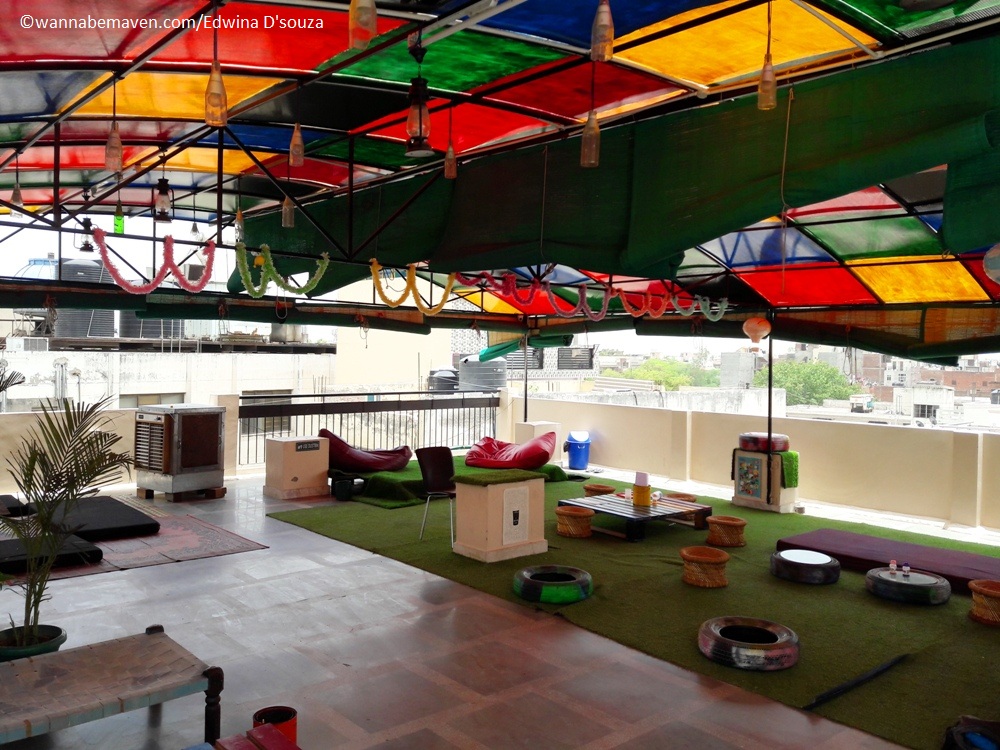 The overall vibe at the property was upbeat. I especially loved the artwork – from the Delhi tourist map to the review wall and the sketches of monuments along the staircase.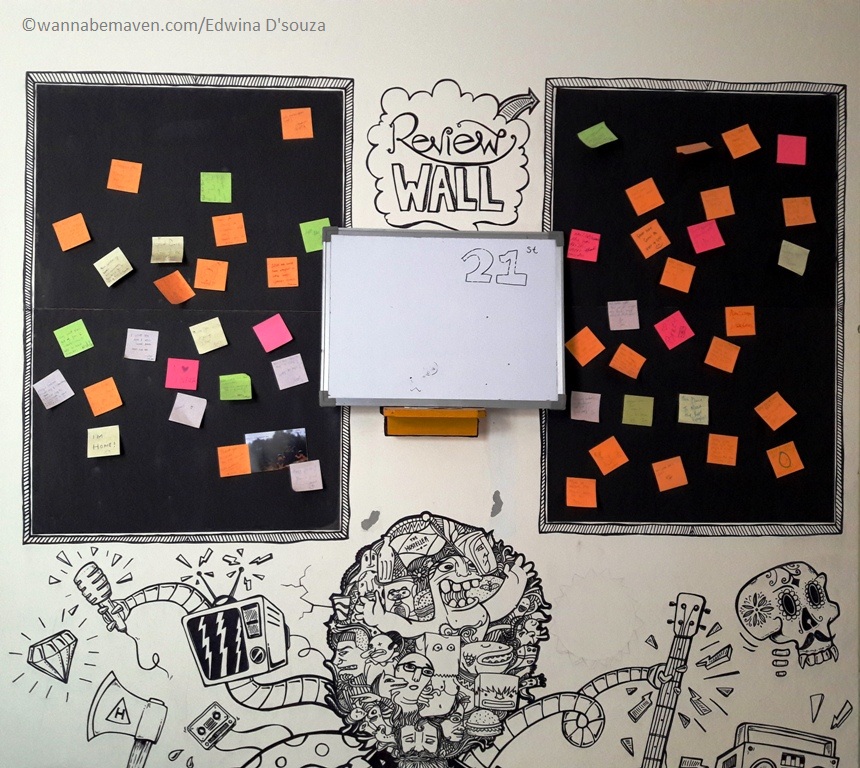 If you've never stayed in a dorm room before, two things to know – something I learnt from my first stay in a travel hostel
Don't turn on the lights when you get in late at night. Use your phone or headlamp to find your way around. The idea is to be considerate towards others. When we arrived late that night, we were discreet and at our best behavior making sure that our room mate didn't realise we existed in that room.
A travel towel is a must. A lock would be handy too.

Often stuff gets stolen in such communal living set ups

. Our dorm had grilled compartments underneath the bed but the locks were not in near vicinity. I had to ask Aatm and he managed to give us one lock, which was used to secure our three backpacks.
In a nutshell
It was a cheap and comfortable stay. But as I said earlier, most people also crash at travel hostels to meet and interact with fellow travelers, which didn't happen in this trip. For one, our's was a short stay. And secondly, when you're in groups you don't feel the need to interact with strangers because you have your own set of people to talk to. In the same way, travelling in a group restricts others from making a conversation with you.
May be next time when I'm travelling some place solo, I'll book myself in a travel hostel. Meet fellow backpackers, strike up conversations, listen to their stories from the road, go bar crawling or something like that 🙂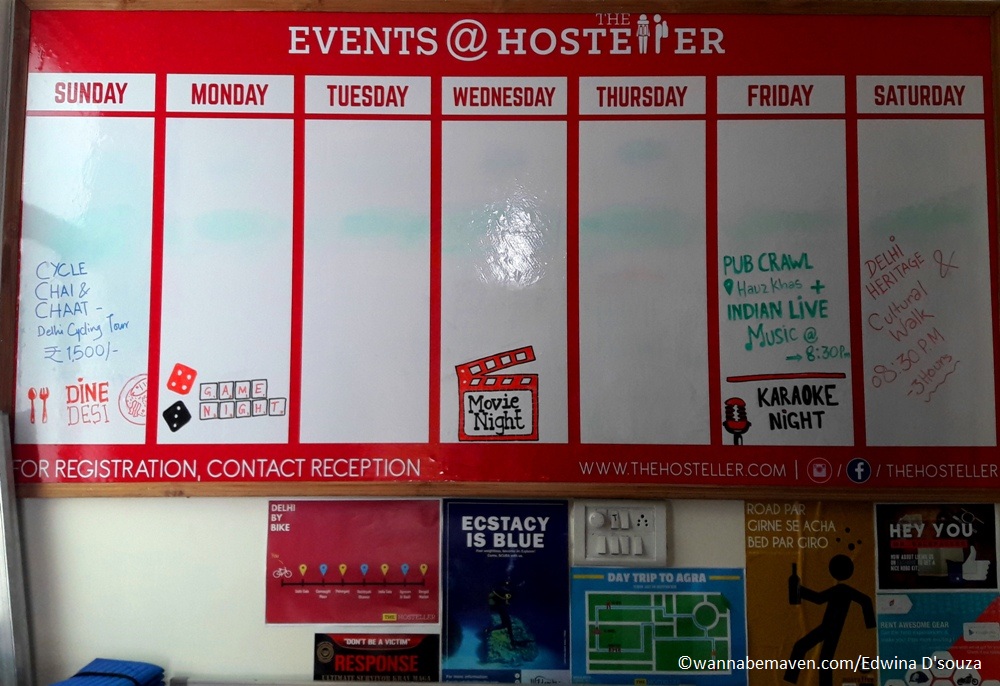 (Note: I paid for my stay and this review was conducted anonymously)
===
Join me on Twitter, Facebook and Instagram for more such travel stories and photographs. I also make cool status updates, just in case you like randomness.
Subscribe to this blog to receive my monthly newsletter with cool travel stories, updates and deals and discounts in your inbox