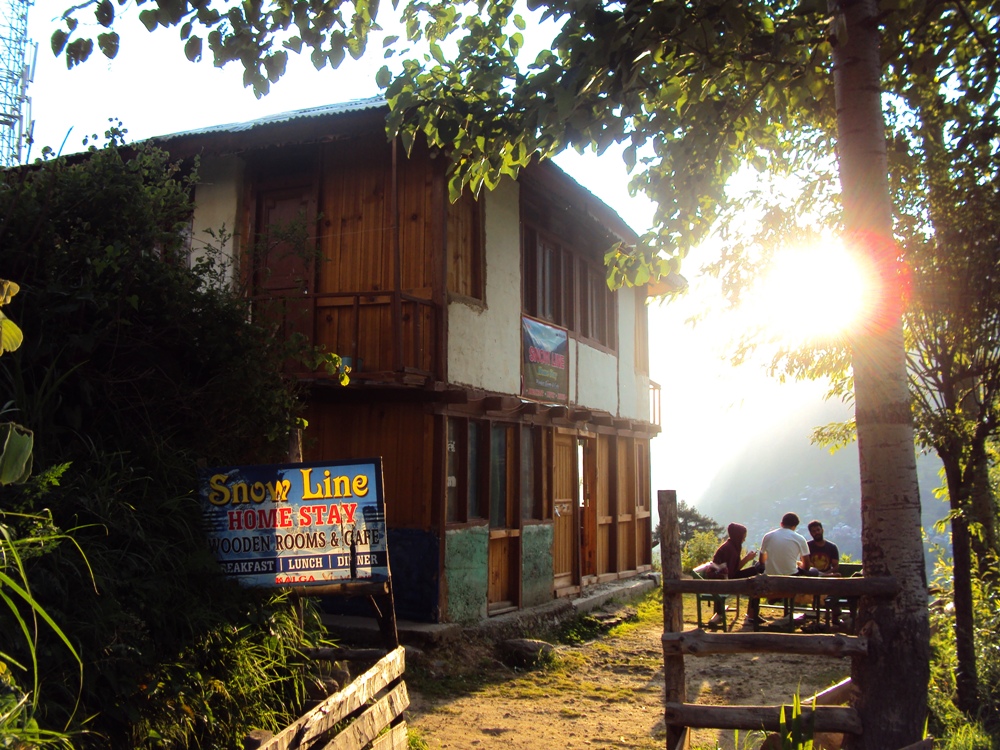 I was reading Mark Tully's No Full Stops in India on an evening in Kalga village while bacpacking in the Parvati Valley in Himachal Pradesh for 8 days. The weather was pleasant and the fresh mountain air was intoxicating. I sat on an old wooden bench with a table outside my lovely little homestay atop a hill.
Soon a stranger stopped by to click some pictures of the valley. He asked if he could click my picture against the background of the mountains. 'It would add more character', he said. I replied a nervous 'okay' and he started clicking away.
I continued to read my book while taking a moment to sip my tea. The stranger smiled and joined me on the table. Average height and built, unshaven and a thick accent, I was unabashed in asking if he was from South India. He didn't seem to want to reveal much about himself but he said a reluctant 'yes'. 'I am from Chennai but I've been living in Kalga for eight months now'.
We come from cities where we are told to not trust strangers so I had my inhibitions of talking to him. But I also tried to break the ice. To my surprise, he was more hesitant to answer my questions than I would have been had he asked me any questions. But he was also polite and well spoken.
We both discussed what we were doing here in Kalga. 'I am trying to write a screenplay here', he said. 'Alongside, I work towards screening indie films in different regions of India.' He smirked when I said that I have just returned from Tosh (another Himachali village) and that I loved the place. 'Tosh is too commercialised', he said. Our discussion went on for about twenty minutes on other villages to explore around Kalga like Pulga and Nakhtan. He suggested that I skip Kheerganga and hike to Buni-Buni, if possible. He seemed quite well versed with Kalga village. It didn't surprise me considering he had spent 8 months here.
I happened to ask him where was he staying in Kalga and he pointed to his right…'a little higher in the mountains', he said. 'I got a cheap room from a shepherd. It was an abandoned place until I approached them to stay'. He then took a bite of the omlette from the tiffin he carried in his bag. Meanwhile, I asked him if I could see the pictures he clicked and he said 'go ahead'. 'I only started clicking today after a really long time. And I might share the lodge pictures with the owner so he can use it for his Facebook page.'
A few moments later, my friends emerged from the room and this stranger decided to leave.
What was the name of this stranger, you may ask?
Well, I don't know. I asked him his name but he never answered. And neither did he ask for my name. He just said goodbye and walked away. And I got back to reading my book.
There was a strange sense of contentment on making this fleeting interaction…like I just had my travel moment! I've always believed that I have a thing for strangers, especially while I'm on the road. You coincidentally meet someone, make a fleeting conversation and then you go your separate ways. No looking back! You may not meet this person ever again. It's a moment. A moment that may or may not turn into a memory 🙂
Have you also had such a fleeting conversation on your travels that turned into a memory?
===

Liked this post? Also check out….
Passive observations in Gujarat
===
Join me on Twitter, Facebook and Instagram for more such travel stories and photographs. I also make cool status updates, just in case you like randomness.
Subscribe to this blog to receive my monthly newsletter with cool travel stories, updates and deals and discounts in your inbox