It was a while since I rode the bike so I did a short road trip to Ghodbunder last week.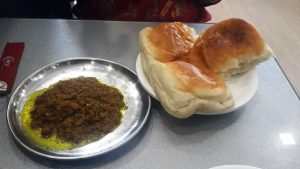 We were supposed to end the trip at Hotel Fountain at the Thane-Ghodbunder junction after treating ourselves to Kheema Pao and Chai. But we changed our minds after I saw a board that read Gaimukh 05km. I had read about the Gaimukh Fort and the Nagla Bunder Fort on this very informative blog and I thought this should be a good opportunity to check it out.
We reached Gaimukh and roamed in circles since no one was aware of this fort. Flexible enough, I asked the locals if they knew of the Nagla Bunder Fort. The locals now directed me to ride another kilometer from Gaimukh and take a left to leave the Thane-Ghodbunder road. On reaching the junction, I cross checked with another local but she wasn't aware. The blog in reference mentioned that the fort is in a deteriorating state and nearby there is a church on a hill. So I asked locals about the church and finally they were able to guide us.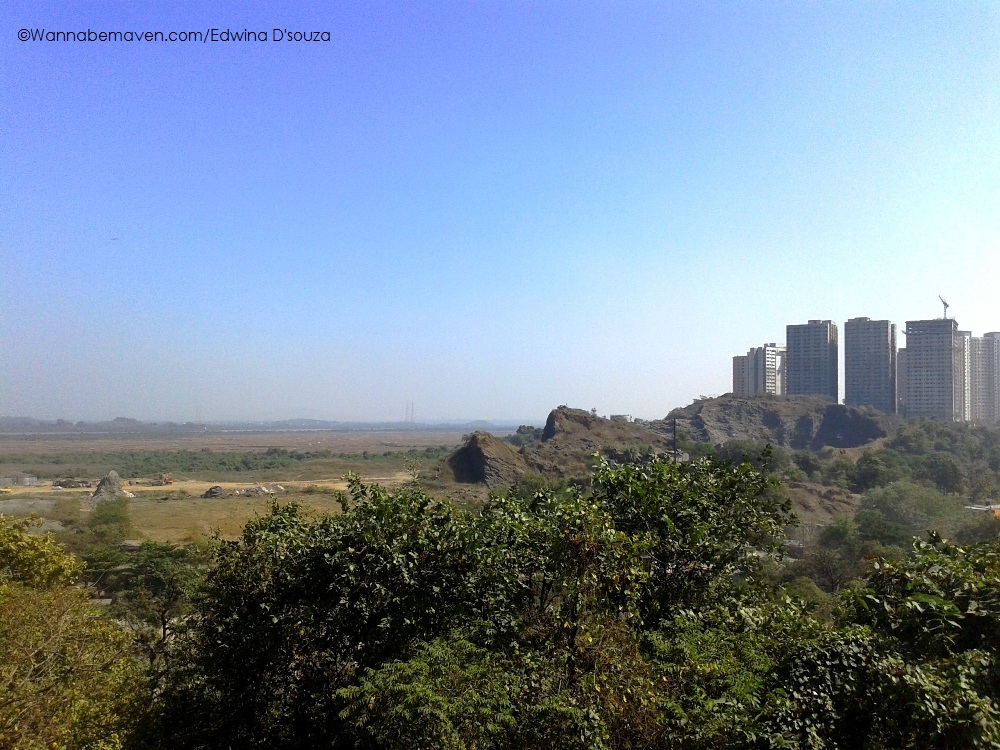 Rampant quarrying has destroyed the hill you see in the pic above
Apparently, the Nagla Bunder Fort has been destroyed from the quarrying activities extensively carried out in this area. Many believe that the church stands in its place now. At least, we didn't find any remnants of the fort. Nagla Bunder Fort and the Gaimukh Fort are not even listed in the Archaeological Survey of India monuments. This is quite sad since the structures, built by the Portuguese, have relevance in Indian history.
An unexpected discovery
We rode in rugged terrain and were happy to spot a white board that read "Our Lady of Hope Church". Our bikes were parked at the stairway and we climbed up to find Vikas, the caretaker of the premises. On speaking with him, we got to know that the Our Lady of Hope Church is under the purview of St. John the Baptist Church, Thane. Vikas gives his attendance at St. John's every day before coming here and by 6:30pm, he closes the gates and leaves for his home. The caretaker changes every week or two.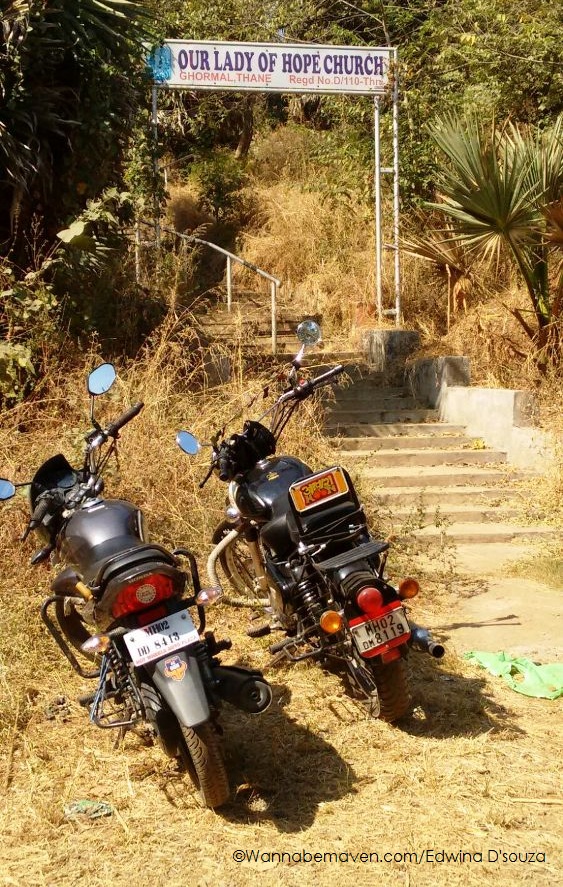 The Our Lady of Hope Church was a quaint little structure nicely sitting like a crown on a hill. The Thane creek and the surrounding greenery made for a serene view with cool breeze, although the area is dusty from the quarrying activities that are border-line worrisome. A grave of a Muslim sufi rests right across the church gate. We checked with Vikas and he said that the grave was here before the church existed. So they didn't want to do away with it.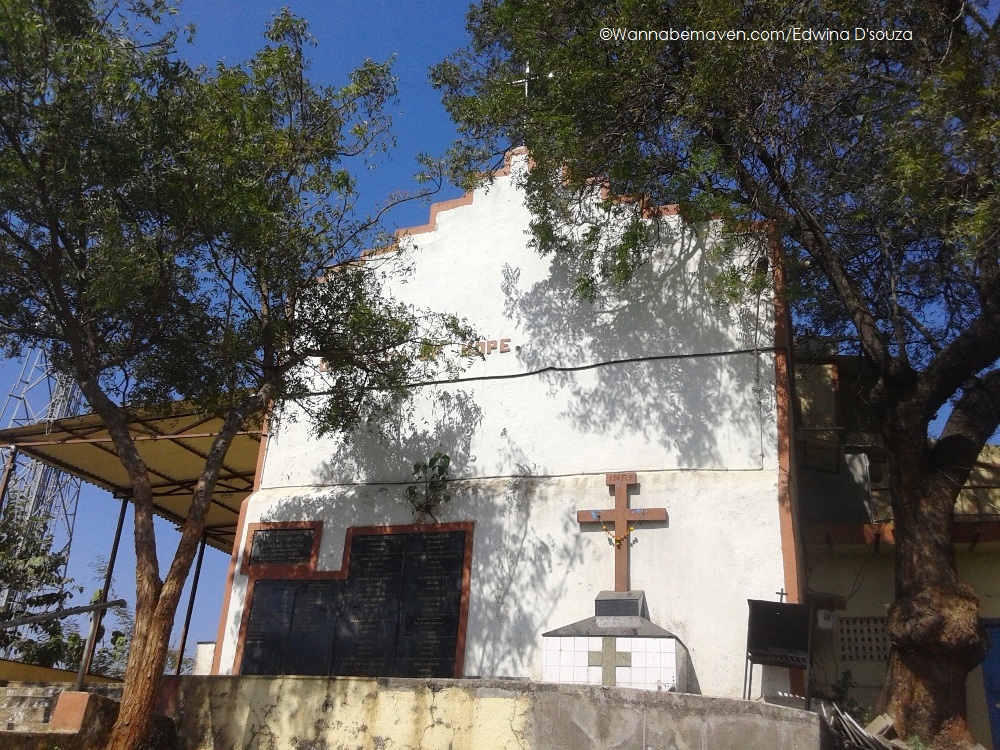 The interiors of the church have mosaic paintings on both sides and the ceiling particularly is eye catching with a magnificent mural. The church can serve a congregation of around 100 parishioners. A 10am mass is said here on the first Sunday of every month. On other occasions, parishioners book the church for private Eucharistic ceremonies. Post mass, they break into a small party of sorts in the church premises (more like a verandah). Vikas was quick to inform that just a day before we had arrived, there was a private mass followed by a party.
Intrigued, I asked Vikas, if these parties need to be alcohol-free. Vikas told us that it's okay. They don't have a problem with alcohol as long as no trouble is created. And they have CCTV cameras everywhere with controls at St. John's, so they know of mischief makers. They also don't allow couples looking for lone time here.
Vikas sold me this concept and for a moment I thought maybe I could host a small celebration here for folks and family after a privately held mass 😀 He then shared another piece of information and encouraged us to walk down to the Thane creek from Nagla Bunder. It is here that around 59 packets of RDX were disposed off in relation to the '93 Mumbai blasts.
When we reached the base, the sight was alarming with rampant quarrying, sand mining and construction activities. We soaked in whatever little view the site had to offer until we headed back and moved out.
In a nutshell
This may seem like a waste of time for some as there are no remnants of the Nagla Bunder Fort anymore. But the curious can venture, like we did. It's a nice place for a quiet hang out away from Mumbai's chaos. The atmosphere up there is pleasant, although unsafe to travel alone. Women should not venture here alone once it gets dark.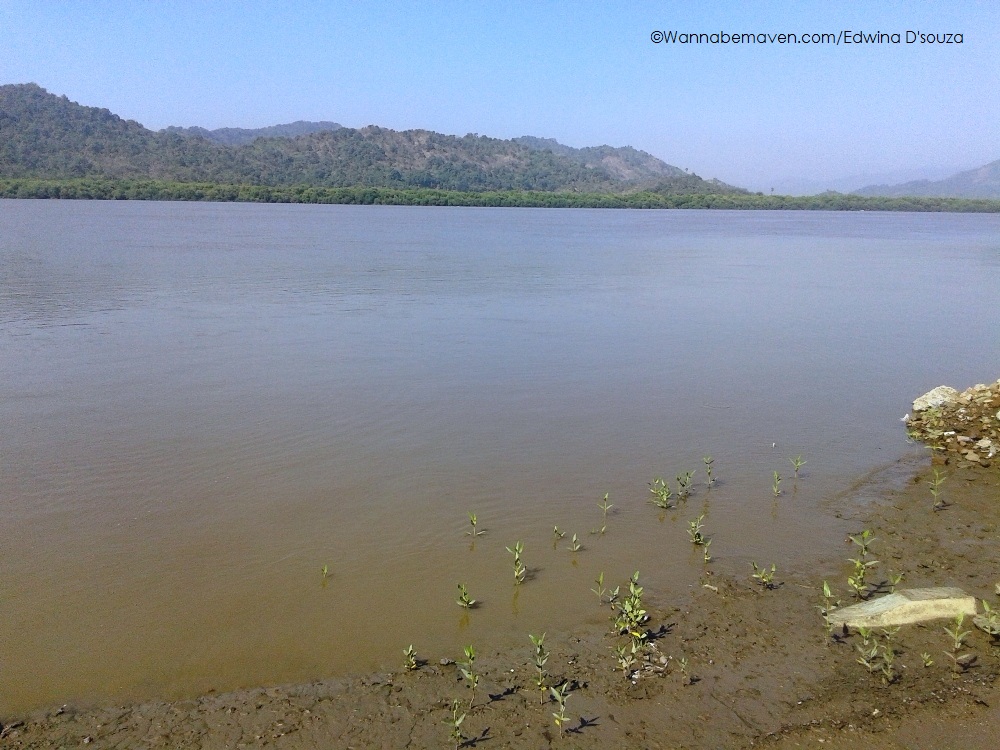 We went looking for the Gaimukh Fort and the Nagla Bunder Fort but ended up discovering the Our Lady of Hope Church, not that I'm complaining. Our urge to explore ensured we returned content 😀
===
Liked this post? Also check out…
History connects itself at Vajreshwari temple
I found another miraculous cross in Goa
===
Join me on Twitter, Facebook and Instagram for more such travel stories and photographs. I also make cool status updates, just in case you like randomness!
Subscribe to this blog to receive my monthly newsletter in your inbox.