I was in Goa for an extended weekend in September 2015 when I got a tip-off from a friend about a restaurant that serves Goa's local brew, Feni in an ice cream flavour. The next day, I was here!
Niko Homemade Ice cream and Restaurant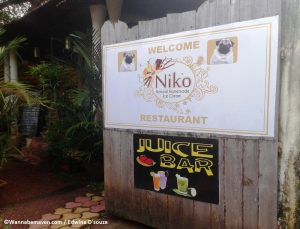 Tucked away on the Siolim-Vagator road in Assagao, North Goa and hidden behind a big banyan tree is a standalone eatery – Niko. A typical Goan house has been converted into a family restaurant that serves European style food. On offer is a variety of pizzas, calzones, crepes, pastas, quiche, antipasti, salads, soups, sandwiches and eggs any way you like. They add Chinese, Thai and Indian cuisine to the mains apart from the standard Goan fare just in case you want a taste of local flavour. The juice bar in the verandah that doubles up as the dining area serves smoothies, fat free crushes, juices, shakes and fruits with yogurt.
What's their quirk?
While the food is pretty good (more on that later), Niko is popular for their natural homemade ice creams and sorbets. Apart from Belgian Chocolate, Vanilla and Strawberry, they create some really wacky flavours. Think Wasabi Vodka, Chocolate Chilli, Spices, Malibu and Cointreau & Grape. They pride themselves on creating these flavours from 100% natural ingredients, be it the exotic fruits and spices or the alcohol. I'd give it up for them for their creativity and courage. Why courage? The power cuts in North Goa are erratic and for a family to become entrepreneurs selling homemade ice creams is really something!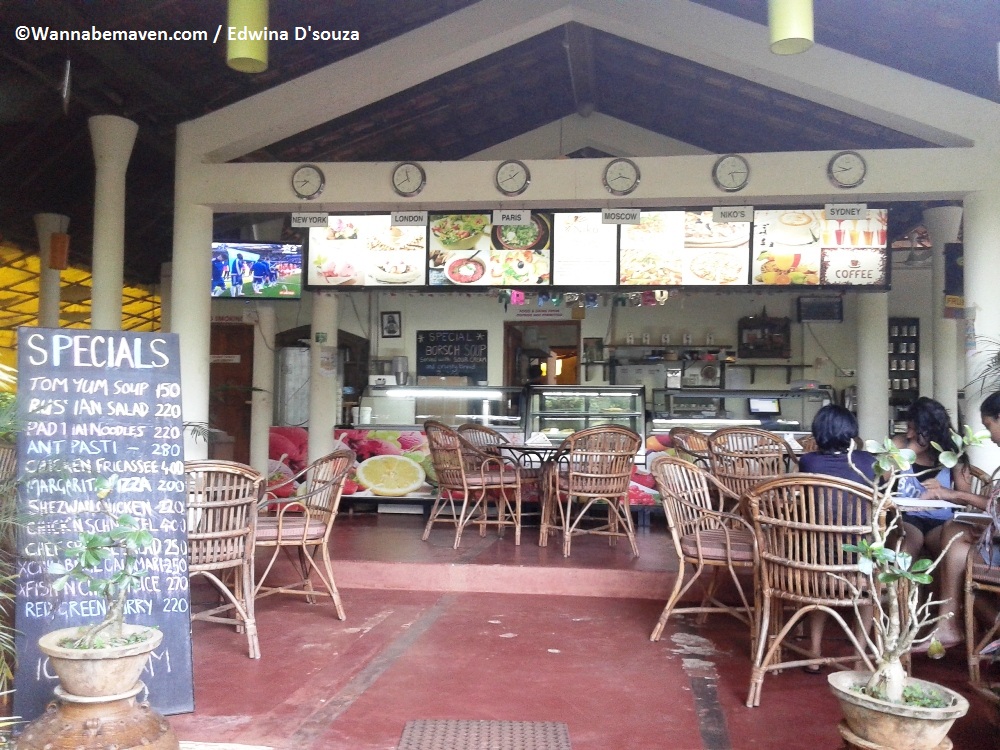 Niko Ice cream and Restaurant in North Goa
How is the food?
It was a late lunch after a swim in the Candolim beach on a bright sunny afternoon. We gave the soup of the day, Borscht a go. A Russian style homemade soup accompanied with sour cream, mustard and brown toasted bread. Tiny chicken pieces had settled at the bottom of the bowl of soup that was loaded with beetroot juice, garlic and other herbs and spices. Overall, it was a light dish although too much to finish if you plan to have a 3 course meal.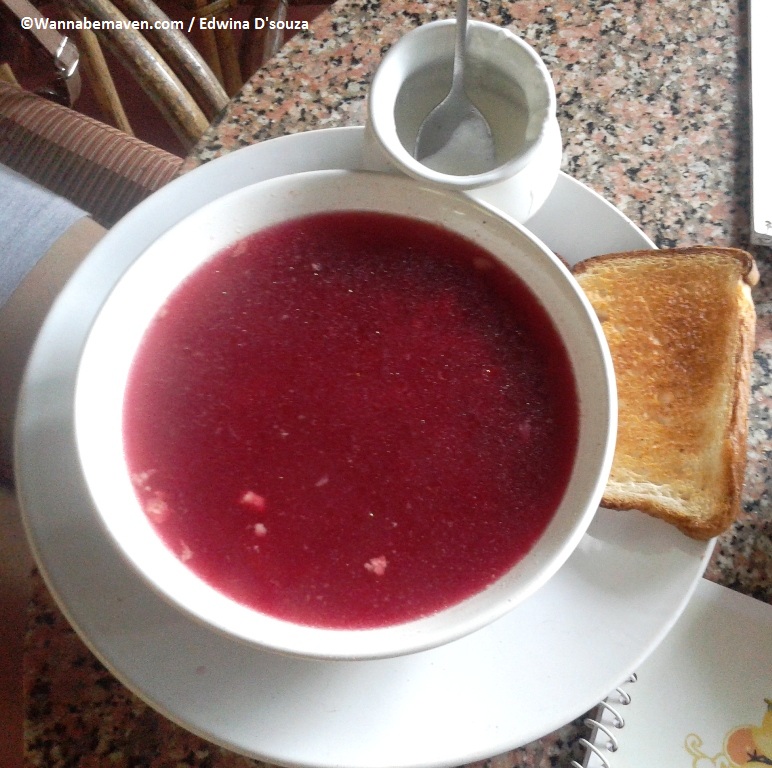 Borscht Soup with sour cream and brown toasted bread
For starters, we ordered Chicken Chilly. This was a surprise from the standard chicken chilly we have become accustomed to eating in the name of Chinese. The chicken was succulent and none of the ingredients were overpowering. So good was the appetiser that we went for another round.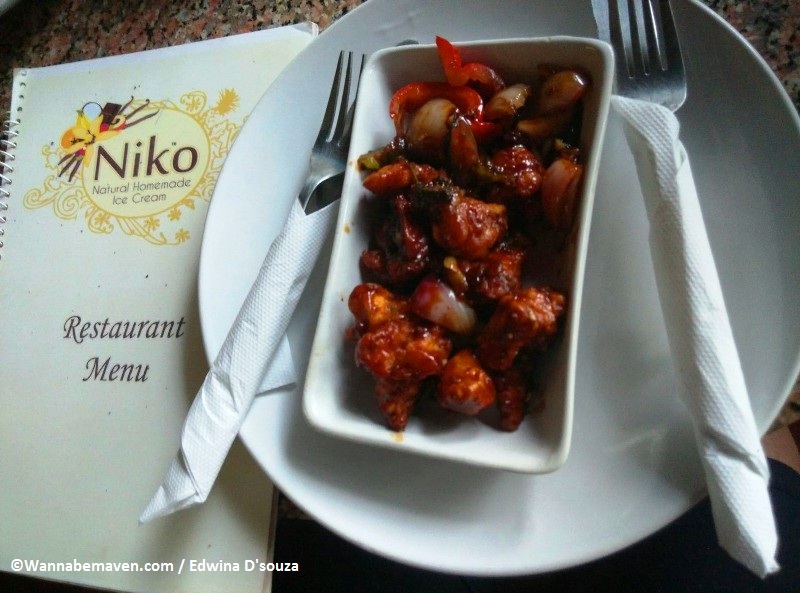 Chicken Chilly at Niko
The Lettuce, Tomato, Cheese and Onion Sandwich tasted just the way it sounded. Although, the hint of raw onion was overpowering and the grated cheese was dry. For mains, we tried Steamed Rice with Vegetable Thai Green Curry that had a nice coconut milk base with fresh veggies. Or maybe I'm just biased here because I'm a sucker for Thai green curry and steamed rice 😀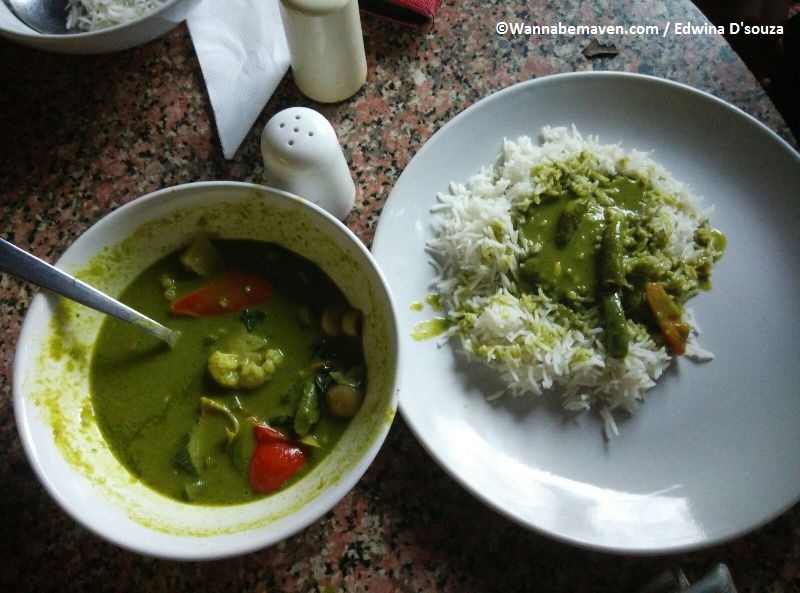 Vegetable Thai Green Curry and Steamed Rice
Dessert was the part I most looked forward to. In fact, I hunted this place down for the Desserts. I sampled almost all the flavours but at the back of my mind, I knew I was going to settle for the Cashew Feni and Grape Ice cream. While the dessert looked nothing extraordinary, it delivered what it promised. A strong hint of Feni hit the back of your throat. Same is the case with chocolate chilli and Malibu. Although if you ask me, I'd recommend that you try the vanilla ice cream, made from vanilla bean and not vanilla essence.
Cashew Feni and Grape ice cream at Niko
All the food we ordered had a homely touch with emphasis on simplicity if not the finesse you find at fine dine restaurants. My advice to not rush when you visit this place for a grub. Sit, grab a beer and watch a game of soccer while your food gets to the table. Know that every order takes no less than 20-25 minutes to arrive since all the dishes are freshly prepared. And the gentleman at the counter is a one man army taking orders, lending a hand in the kitchen, serving food, clearing tables and getting the cheque.
The bill was just over Rs. 1000 for four of us, so a reasonably priced restaurant, I'd say.
In a nutshell
Some places need to be visited for its uniqueness and Niko's crazy ice cream flavours is its unique selling proposition. Even the food is great here so it's a good package overall. I'll be honest that I visited Niko to try their Feni ice cream. But I am sure I am going to return for their vanilla bean ice cream. Cross my heart (and hope to die)!
Locate It
Niko Ice cream Goa, 345/1, Aquada Siolim Road, Mundang Vada, Assagao, Bardez, Goa 403507
===
(Prices mentioned were correct at the time of publishing this post. I paid for my meal and the review was conducted anonymously.)
===
Liked this Post? Also check out….
Sula Vineyards Tour – Day Trip from Mumbai
Between Breads, Bandra – Bacon and Archie Comics is quite a combination
===
Join me on Twitter, Facebook and Instagram for more such food and travel stories and photographs. I also make cool status updates, just in case you like randomness!
Subscribe to this blog to receive instant notifications of my new posts in your inbox.