[Last updated: 11 May 2019]
Boliye madam, kya lao? Bheja Fry, Bheja Masala, Gurda Masala, Kheeri Kalegi?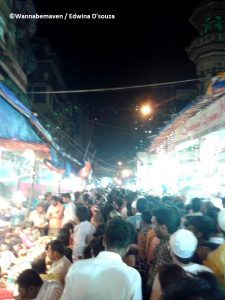 I found myself at what is called a non-vegetarian's paradise, aka, Mohammad Ali Road during the holy month of Ramzan. I was here to explore the much talked about food scene.
It was a given that I would visit this place someday, since I'm a hard core non-vegetarian. So one weekend while the rest of Mumbai was preparing to call it a night, we headed to visit a small but lively junction below JJ flyover in South Mumbai to sample some popular (audacious, may be) street food.
There are two famous Khau gullies on this stretch – Minara Masjid and Bohri Mohalla. Minara Masjid is the more popular brother among the two. A tall white and green masjid becomes your landmark to sneak into a barricaded street full of makeshift stalls selling meat of all kinds. The smoke from the grills and tandoors is thick in the air. Every shop has a dedicated waiter serving, shouting and poaching customers. People hover around already settled customers in the hope to grab a seat. And the entire lane is lit up with colorful lights.
There are two famous Khau gullies in Mohammad Ali road – Minara Masjid and Bohri Mohalla
Not for the fainthearted
The display of meat both raw and cooked can be quite graphic here. Whole tandoori chickens hang from hooks to lure hungry foodies. Caged Quails are on counters while customers sit across a table and order for a quail tandoori. Tikkas on skewers come in red, green, white and yellow color. Shopkeepers fan mutton sheekh kebabs on coal grills. Chote kebabs or small beef kebabs get deep fried in hot oil and served between breads along with onions and mint chutney.  Biryanis and Haleem are served from large handis.
A large section of customers have an appetite for offal or organs like goat brains, liver, kidney, udder and even testicles. Brave hearted can sample dishes like Zabaan soup (tongue), Nalli nihari (marrow), Paya (trotters), Pichda (Ox tail) and Topa (Ox hump).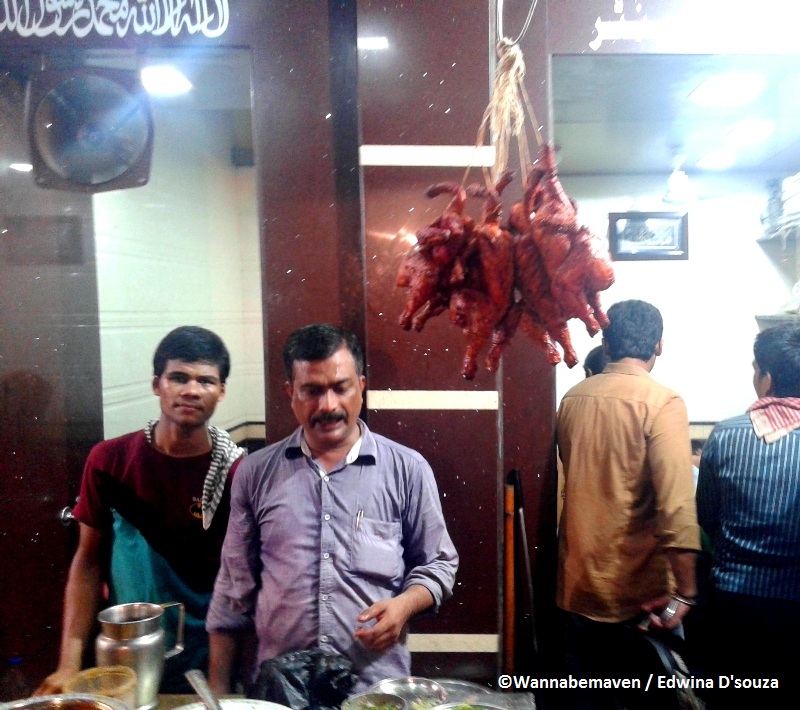 Whole tandoori chickens hang from hooks to lure hungry customers
What we sampled?
We tried Beef Fry Masala and Bheja Masala with Naan Bread, a half plate Chicken Fry, Mutton Pulao and Chicken Pulao.
The beef fry masala went well with the round toasted naan bread and so did the bheja masala. The latter was creamy and could almost camouflage as an egg based dish. This was followed by chicken fry. A deep red color achieved from throwing chicken into hot oil. The meat was piping hot but slightly dry, although it went well when accompanied with green mint chutney. For mains we ordered chicken pulao and mutton pulao. Both were flavorsome and surprisingly not heavy.
Sweet Paradise
Mohammad Ali Road is as much a haven for sweet lovers.
The Suleiman Usman Mithaiwala right at the entrance towards the Minara Masjid eat-street is your go-to place for all things sweet from flavored phirnis to biscuits, khaja, sandal and sutarfeni (also called budhhi ke baal). Do try their dry fruit Nankhatai. Suleiman Usman Mithaiwala is also popular with some of the biggest Bollywood celebrities.
Other popular stalls around the corner include Noorani Milk Center and Zam Zam. Also try the Burhanpur jalebis in a tiny food stall inside the Minara Masjid lane.
If you have the appetite and the heart, go for the king size Malpua – A deep fried pan cake served with Malai or Rabri. An extremely rich dish, take it up as a challenge to order, eat and finish a Double Malpua with Rabri.
Hygiene Concerns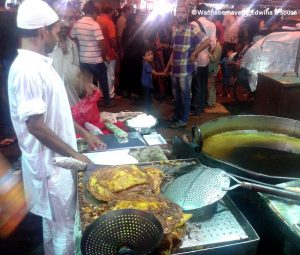 I can vouch for the food at Mohammad Ali Road but I'm not sure if I can vouch for the hygiene. The makeshift stalls are dangerously close to each other. Paper plates, newspaper, plastic bags, empty water bottles and tissues lie on streets. Food is displayed in the open and shopkeepers multi-task handling customers and shooing away flies at the same time.
The food is rich and greasy and so you are required to wash your hands post meal. But there is limited arrangement for the same. You simply wash your hands wherever you find an empty corner with bucket water provided by the stall. And there is no proper escape for this water. I can't imagine visiting this place on a rainy day, although Ramzan arrives between May and June.
Some Practical Things to Know
Arrive after 8pm. Let the community break their fast and eat their meal. Non-Muslims can join in the party later. We visited Minara Masjid around 11pm and left by 1am. Even at this hour, the traffic was crazy and the crowd maddening.
The food would taste the same even on a normal day. One visits Mohammad Ali Road during Ramadan for the ambiance
Try to sample food from multiple food stalls instead of eating your entire meal at just one stall.
Avoid taking your car. We did the mistake of taking our car and struggled to maneuver the vehicle in traffic. We ended up parking our car over a kilometer away from Minara Masjid towards CST.
Police patrolling is in place and the local community has their own volunteers making announcements to take care of your bag and belongings (and children too!)

Understand that the food would taste the same even on a normal day. One visits Mohammad Ali Road during Ramadan for the chaos, ambiance and set up.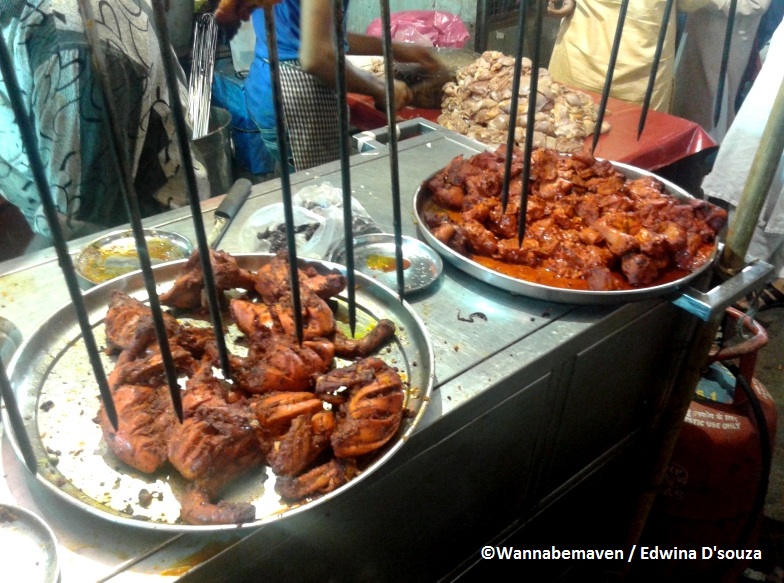 Tandoori chicken pieces. Also notice the sight of raw meat right behind the second thal
===
Also read: Part 2: Bohri Mohalla food trail – Best places to eat
===
Read my other posts on offbeat experiences in Mumbai 
The last bungalow of Seven Bungalows survives
A cricket museum for a cricket crazy nation
Maharashtra Nature Park – From dumping ground to a nature pleasing space
Money on display at the RBI Monetary museum
Aarey milk colony – Green oasis and a dying milk factory
===
Looking for hotels in Mumbai? 
Click here to find the best deals on hotels in Mumbai.
===
Join me on Twitter, Facebook and Instagram for more such travel stories and photographs. I also make cool status updates, just in case you like randomness!
Subscribe to this blog to receive instant notifications of my new posts in your inbox.