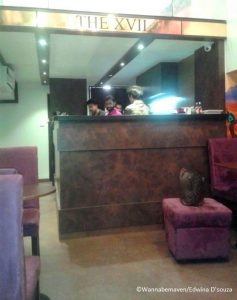 I've decided to jot down my experiences at restaurants after having visited the place on at least two occasions. This way I can gauge consistency and get an opportunity to try a wide range of items on the menu, before I form an opinion about the place. I implemented this idea for The XVII Tea Room Bandra, having visited them over 2 consecutive days.
First things first, I'm not a coffee drinker and café shops are just not my thing. So, when I heard of a tea room in Bandra by the name 'The XVII Tea Room', I was hooked.
They have a striking look, successful to gain attention of curious food lovers. Décor is interesting with murals, albeit, some bold colors used. An elegant chandelier hangs from the ceiling while huge windows at one side throw natural light. They have a basement, apt for cozy gatherings and free wifi is available to go along with your tea and cakes. For a Sunday evening tea affair, we found the place rather empty.
What's on the Menu at The XVII Tea Room?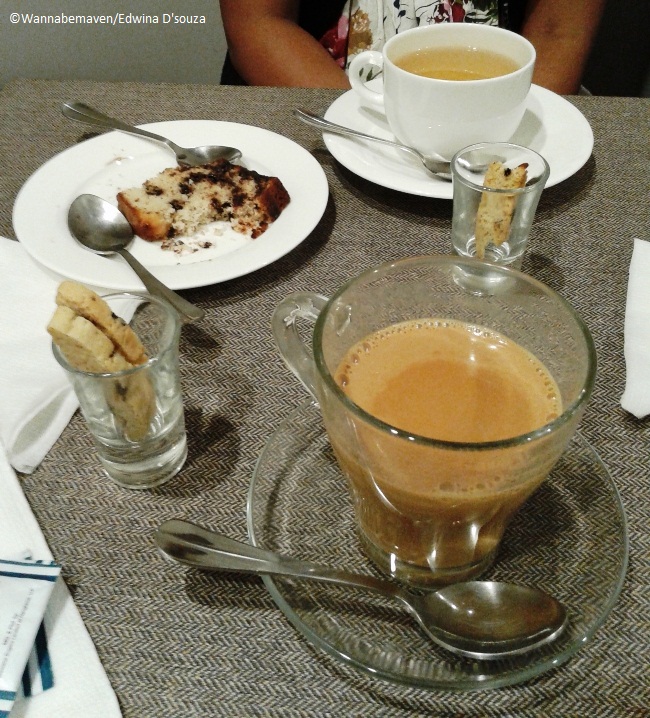 A tightfisted individual might feel fussy to pay Rs. 100 for a cup of tea. But, it's still a better deal compared to some franchisee cafes and multiplexes that churn out machine run hot beverages.
We tried the Orange Chai that went well with Dark Chocolate and Almond Tea Cake. Hint of Orange was perfect, although tea arrived lukewarm. Sencha Tea, a steamed Japanese style green tea, was light and refreshing.
On my second visit, we tried the Saffron and Cardamom Chai. A decent beverage while burying your head in a book. Other kinds of tea on their menu include Assam Tea, Darjeeling Tea, Nilgiri Black Tea, White Tea, Mulled Apple Tea, Spiced Guava Tea, Rose Tea and a lot more. All their teas are served with complimentary Biscotti.
They also serve Coffees, Hot Chocolates, Cremes, Iced Teas, Sandwiches and Desserts. It's eventually the Raspberry Cold Chocolate that was the highlight of our visit. Filled to the brim, cold chocolate has the perfect hint of raspberry without being overtly sweet. A sure shot winner!
All sandwiches are vegetarian, among which we tried the Olive Tapenade and Mushroom Bruschetta. Ingredients are fresh and the sandwich is light. In fact, all items at The XVII are freshly made, so expect at least 10-15 min waiting time (especially on busy days). We waited more than usual for a cup of tea, but I think that's fine if your beverage comes fresh to the table. Besides, with cozy ambience and free wifi, one doesn't really mind the wait.
If I must point out scope for improvement, it has to be their menu with limited options. Other than that, effort is laudable from the founders, considering they're a bunch of young entrepreneurs and (I read somewhere) they don't belong from the hospitality background.
The XVII Tea Room in a nutshell….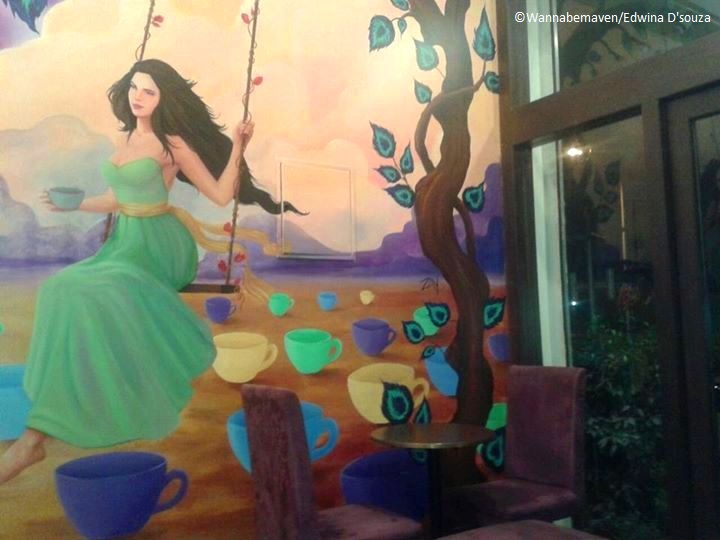 I quite liked the place and would want you to visit it too. They get the location right with a nice cozy space in a prime Bandra area. I even love the stand out concept of a tea room, considering there are coffee shops in Mumbai by the dozen. But Yes! They will need to expand their menu and gather some loyal patrons over time. Else restaurants in Bandra open and close in the blink of an eye.
Definitely visiting this place again for the Raspberry Cold Chocolate. Also, still need to try their Cheese Chilly Toast, Mediterranean Sandwich, Chai Creme and Dutch Pancakes.
The XVII Tea Room Bandra Address
Shop no.1, Darvesh Royale, Perry Road, Bandra West, Mumbai, Maharashtra 400050.
(Landmark – Next to Lemon Leaf Restaurant).
Timings: Open until 12am.
Meal for two cost Rs. 400. They don't charge VAT and Service tax (thankfully!).
I paid for my meal and the review was conducted anonymously.
***
Have you been to The XVII Tea Room in Bandra? What did you think of this place? Write in your comments……
***
Liked this review? Also check out…..
Between Breads: Bacon and Archie Comics is Quite a Combination
***
Subscribe to this blog to receive instant notifications of my new posts in your inbox. Join me on Twitter, Facebook and Instagram for more food stories and photographs. I also make cool status updates, just in case you like randomness!