Nature lovers and those complaining about Mumbai's congestion have something to rejoice!
Sewri – a neighbourhood towards South Mumbai, has a jetty cum dock which is home to thousands of Flamingos and other rare bird species from November to March. These are migratory birds that come from as far as Siberia to the mud flats in Sewri via the Rann of Kutch in Gujarat. They are foraging for food during this period and the mucky location is conducive to them, all thanks to the surrounding mangroves.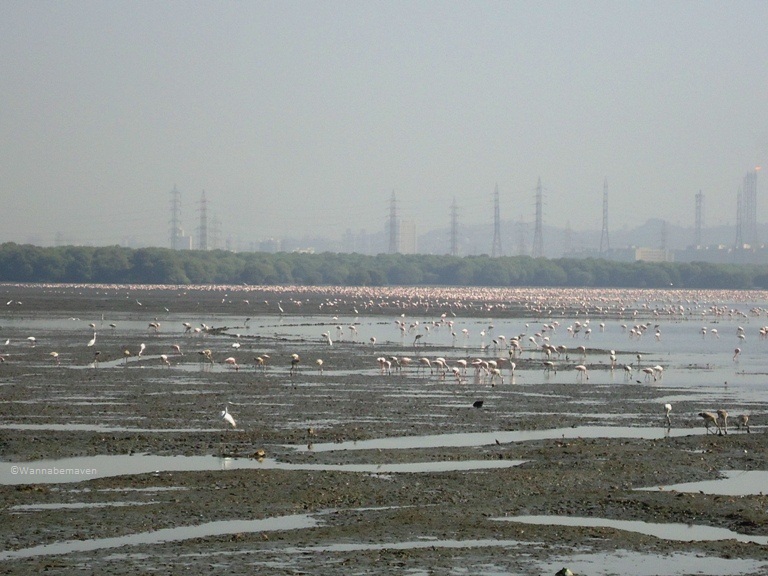 An amazing sight to view!
Each year flamingos visit the jetty tucked away in Sewri east, oddly in the company of oil refineries and industrial units. The scenery is a contrasting one with thousands of flamingos, mudflats and mangroves on a background of oil and petroleum factory silhouettes.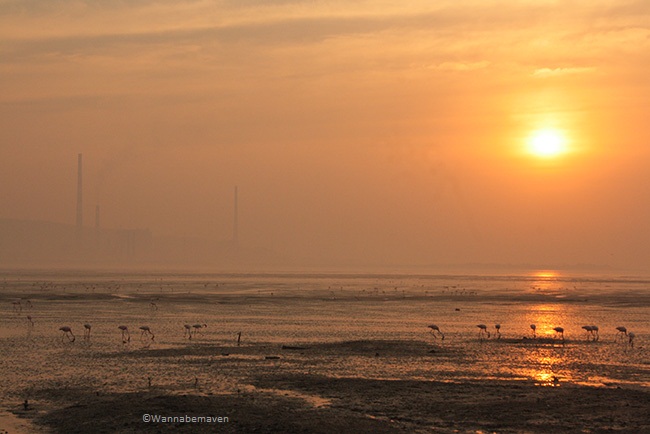 A lovely early morning sunrise at Sewri jetty (Photo: Noella D'souza)
Ship wrecks are another sight that add effect to the viewing experience. Top this all with an early morning sunrise and your camera will give you some beautiful non-manipulated shots. The spoilers however, are debris and plastic bags that Mumbai city is unwilling to give up; the ill-effects of which are nibbling the city's eco-system.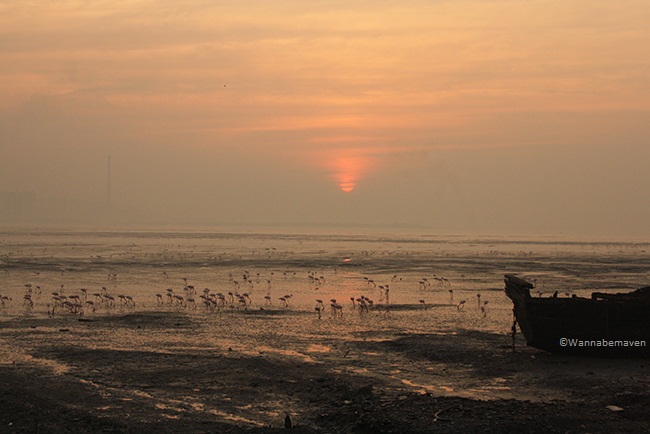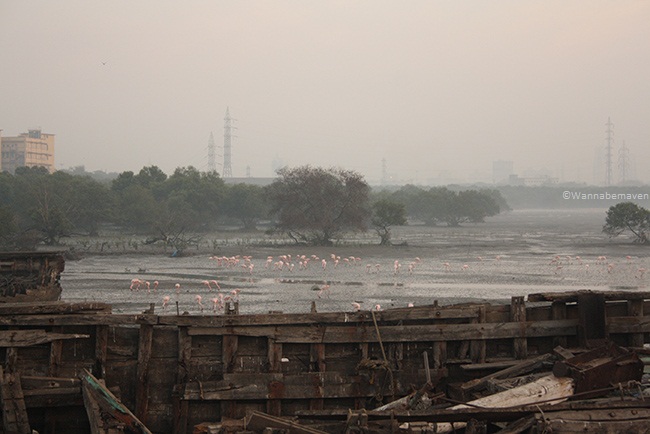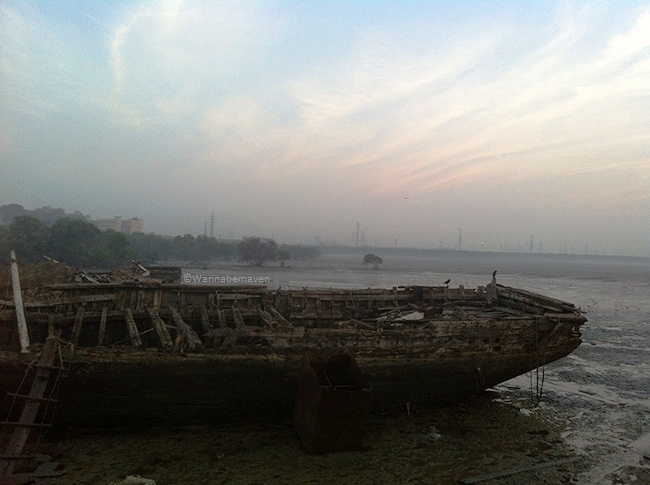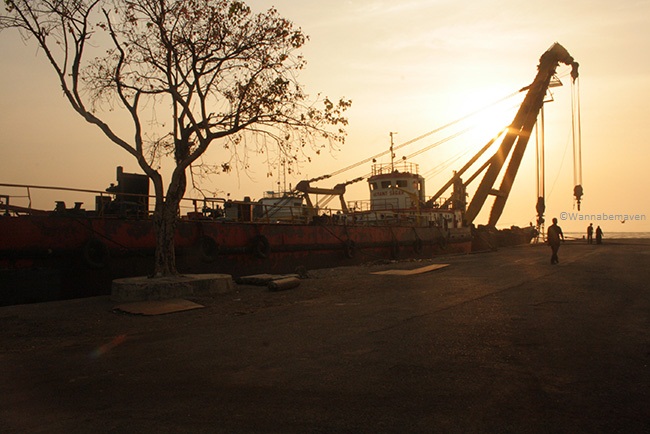 There are some operational ships at Sewri Jetty (Photo: Noella D'souza)
India is home to two types of flamingos from a total of 6 recognized around the world – Greater Flamingo and Lesser Flamingo. Both types can be seen at the Sewri jetty during the migratory season. Along with flamingos, other birds like the Greater Spotted Eagle, Sandpiper, Heron and Black Bellied Tern are also seen in unison.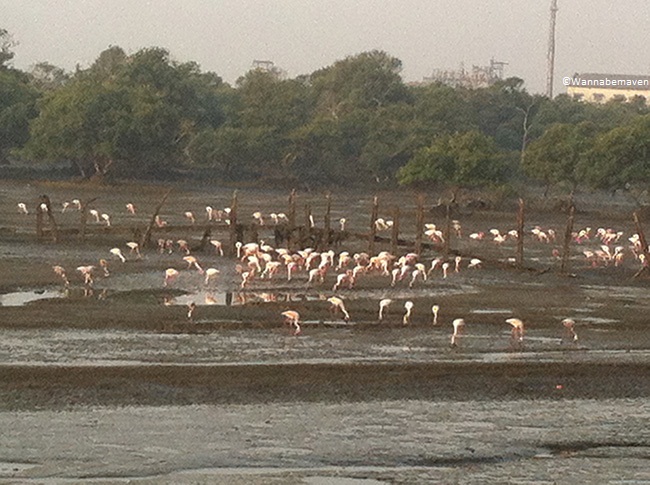 Photo: Noella D'souza
Flamingos mostly thrive in muck which works in its advantage as this keeps predators at bay. They generally roam in large groups and their most captivating moments are their synchronized flight.
Sewri Jetty Mudflats (Photo: Noella D'souza)
Best time to visit Sewri Jetty Flamingos
Best time to see these mesmerizing feathered creatures is during low tide or just few hours before high tide. Ideally between 6 am and 10 am is a good time. Avoid noons due to scorching heat and since there is no shade in the near vicinity. Evenings are also a good time to visit but photography can be difficult. Be sure to carry binoculars as the distance between these birds and where visitors can stand is not a near one. Although, if it is your lucky day, you may see these birds nearer than usual. A good zoom lens camera will help make your trip even more memorable.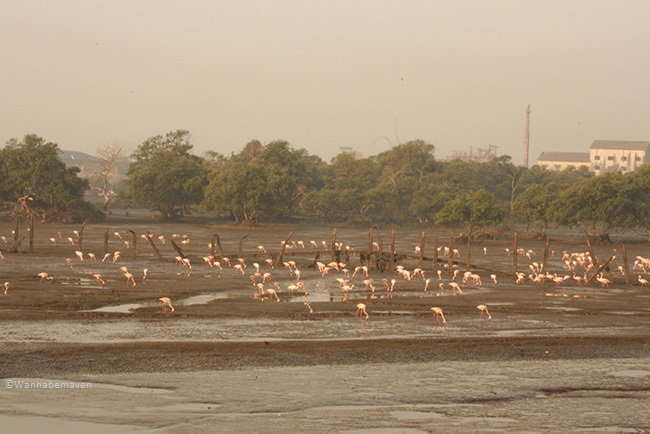 Photo: Noella D'souza
Bombay Natural History Society (BNHS), is one of the environmental NGOs, making efforts to create awareness about this place and its conservation. Flamingo Festival is organized each year by BNHS with exhibitions, book stalls, Bird tattoo stalls, souvenir shops and nature conservation workshops for visitors. They also do occasional tours and nature trails to the jetty and are generally receptive to the idea of enlightening visitors and nature lovers about this place.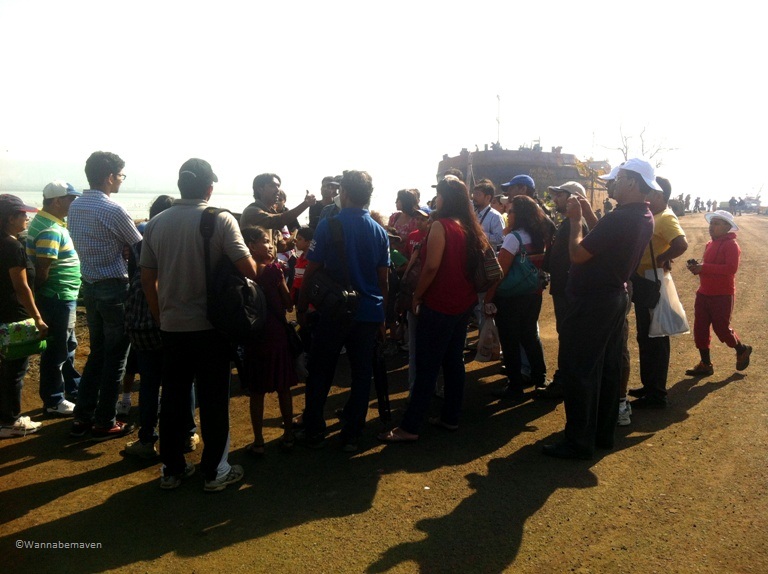 How to reach Sewri Jetty?
To reach here, one must get off at the Sewri station on the Harbour Railway line. Jetty is approximately 1 km from Sewri east, and a taxi should reach you there conveniently. Even if you are driving down, Sewri station remains your landmark. You must take the road opposite to Sewri station and the railway crossing in the east. Once on that route, there are petroleum industrial units on both sides. Keep moving straight until you reach a T-junction, from there take right and keep moving straight. The end of that road marks the beginning of Sewri jetty and the mud flats. On your way to the jetty, you will also pass Sewri fort. This fort is not easily noticed since the structure is dilapidated and the location is secluded.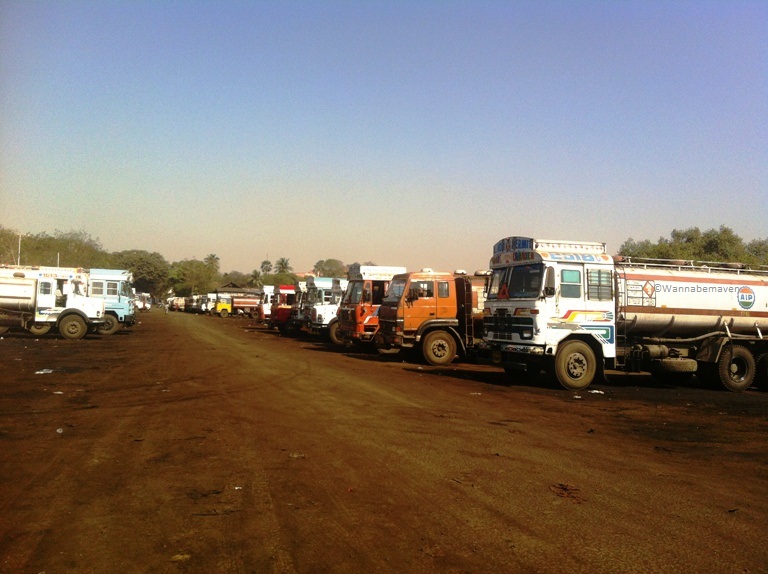 Road leading to Sewri jetty has Petroleum industrial units and trucks all along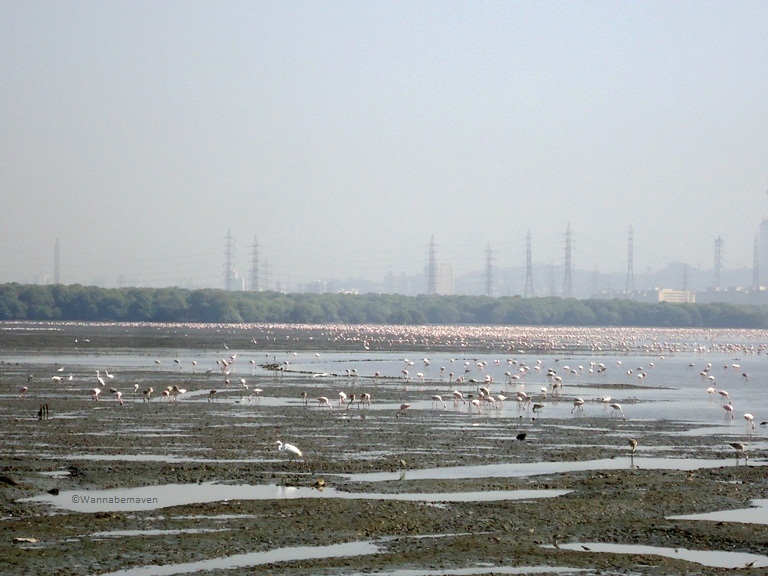 Why you should make sure you visit Sewri Jetty Flamingos?
Because these beautiful migratory birds come from as far as Siberia via the Rann of Kutch in Gujarat only

between November and March

.
Because Mumbai is feeling the heat of the city's population, pollution and congestion, and so when you know of a place like this, a visit should be of priority before its disappearance, destruction or dilapidation.
Flamingos like all other birds and animals don't like urbanization and so they will soon stop coming here because of the developmental projects that constantly get approved compromising on nature.
***
Liked this post? Also check out…..
Maharashtra Nature Park, Mumbai – From Dumping Ground to a Nature Pleasing Space
***
Join me on Twitter, Facebook and Instagram for more such travel stories and photographs. I also make cool status updates, just in case you like randomness!
Subscribe to this blog to receive instant notifications of my new posts in your inbox.